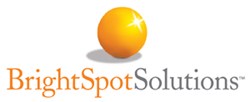 The past 10 years have been filled with successes, achievements, challenges, and new product development.
Longmont, CO (PRWEB) August 28, 2013
BrightSpot Solutions, LLC, a product invention and development business, is proud to announce the celebration of its 10th anniversary this month. This anniversary marks a significant milestone in the company's success.
"The past 10 years have been filled with successes, achievements, challenges, and new product development," said Scott Salzman, President and founder of BrightSpot. "We have grown quickly and are proud of our achievements," Salzman added.
From its origins in a two-bedroom apartment, BrightSpot now maintains a 2400 sq. ft. warehouse for its products. When asked about his company's beginnings, Salzman stated, "In the first year, delivery trucks would leave product in the lawn of my apartment complex. I hired my neighbor to help me carry boxes to my second-floor apartment. Now a forklift unloads semi-trailers full of product."
Spotless Paw® Dog Paw Cleaning Glove – an award winning product – was BrightSpot Solutions' first product. In less than two years, this product was taken from idea conception through to the sale of rights. It was featured in several major national media outlets within the first year of its release to the market.
Products developed by BrightSpot have been featured in more than 100 media outlets including: The Today Show, Good Morning America, The Early Show, Real Simple Magazine, Dog Fancy and Golf Digest. Most recently the Longmont Times Call featured a story about BrightSpot on the front page of its business section.
Salzman noted about recent developments, "Our Spotless Swing Golf Towel is the most popular product at the moment. This year we have made custom logoed golf towels for the FedEx St. Jude and the Principal Charity Classics and over 30 professional golfers on the PGA and Champions tours are using Spotless Swing. We are currently in the process of expanding our Mobile Meditator inflatable meditation cushion line as well."
About BrightSpot Solutions, LLC
BrightSpot Solutions, an entity of unparalleled functionality and professionalism, was created in 2003, by Scott Salzman of Longmont, Colorado, as an outlet for invention. Scott, an inventor at heart, has been dedicated to sharing his expertise in product development. A single good idea, when combined with skillful, professional consultation and a strong desire to succeed, leads to prosperity.
Mission Statement
BrightSpot Solutions provides consumers and professionals with products and services of highest quality and functionality that promote healthy environments for both humans and animals. We bring bright ideas to life.
BrightSpot's dedication to the Mission Statement is readily apparent in our products and production lines. All manufacturing of Spotless Swing® Golf Towel, Spotless Paw Dog Paw Cleaning Glove and Mobile Meditator® inflatable meditation cushion are professionally conducted in safe and respectful work environments.
BrightSpot Solutions takes every step necessary to maintain its ideal to provide products of highest quality. All products come with a complete satisfaction guarantee.