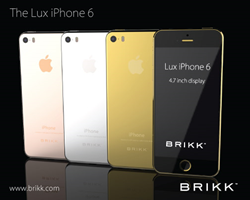 The Lux iPhone 6 is built with the 4.7-inch, 128GB model and is finished in 24k gold or pure platinum.
Los Angeles, CA (PRWEB) July 28, 2014
Today, the design and branding pioneers at Brikk announce the launch of their Phone 6 product line, aptly named The Lux iPhone 6. Their new collection includes 14 models that are luxury versions of the upcoming phone, featuring a unique range of exquisite fabrications. The iPhone 6 is expected to break all previous sales records: its novel features are already establishing its precedent as a coveted status symbol for consumers of both luxury and utility goods. Brikk's Lux luxury line aims to afford unmatched opulence to exclusive clientele worldwide.
The Lux iPhone 6 is built with the 4.7-inch, 128GB model, and is available in 24-carat yellow gold, 24-carat pink gold and pure platinum. Customers may also choose to embellish the familiar Apple logo in a premium diamond version of the Lux iPhone 6 in Gold or Platinum with Diamonds, adding over a carat of perfect white diamonds to their device. Non-plated versions in the original black or white finishes are also available complete with Brikk's diamond Apple logo.
The Lux luxury line stands out thanks to its meticulous production processes. Each piece is disassembled inside Brikk's state-of-the-art laboratory in Los Angeles, USA by a team of highly skilled engineers. They are hand polished, prepared and plated with five layers of diverse metals before their final plating in either two layers of gold or platinum. The high quality diamonds (color D and clarity VVS1) are set with a microscope in a custom-made machined bezel. Each piece is then reassembled and tested before shipping to clients, ensuring the product meets only the highest quality control standards.
Prices range from $4,495 for the plated models, to $8,395 for the plated diamond logo models; all models are packaged in a custom metal box with a user manual and all accessories standard to the device. Each Lux iPhone 6 by Brikk comes with a diamond-embedded certificate of authenticity and an exclusive 1-year warranty.
Brikk is taking pre-orders for the first batch of phones before the expected official launch of the iPhone 6 by the Apple Corporation in September. A $500 deposit is required for the pre-order program. The Lux phones are expected to ship out 3-4 weeks after the official release of the iPhone.
Brikk creates device cases and jewelry for the luxury market crafted from precious metals, titanium and precious stones. The processes used are exacting and durable, and more commonly applied by scientific researchers in the aerospace and medical fields. Brikks 'profit for philanthropy' model funnels proceeds to assist populations in need around the world.
About Brikk™
Brikk designs and manufactures couture products and accessories for the technology, lifestyle, and fashion industries. A vision of CEO Cyrus Blacksmith, a designer of ruggedized computer systems and hi-tech media installations, Brikk's team consists of elite experts in Industrial Design, Engineering, Physics, Marketing and Distribution. Brikk is headquartered in Los Angeles where all products are currently manufactured, with additional offices in Germany and Hong Kong.