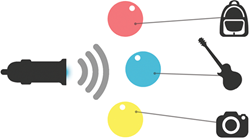 Every time you start your car, Bringrr will search for your phone and any items that have been tagged with BringTags. If your phone or any tagged items are missing, Bringrr notifies you.
Boston, MA (PRWEB) January 13, 2014
From misplaced keys, a forgotten phone, or an AWOL pet, everyone can think of a time when a missing or forgotten item caused stress, delay and inconvenience. Because life is hectic enough without the added frustration, Bringrr has launched two innovative Bluetooth Low Energy devices to prevent anyone from misplacing their items, forgetting them before driving away, or losing them. It can even harness the collective power of fellow Bringrr users to track and find missing items. Through their Kickstarter campaign, Bringrr's goal is to raise $75,000 to begin production on its small devices and smartphone apps.
Backers can qualify for attractive rewards, and spur production of a sorely needed product: kck.st/1iehjbm
Bringrr is centered on a patented car charger and reminder device. While there are other products using Bluetooth to locate items, none are as easy to use or powerful as the Bringrr system. The charger, combined with BringTags and the Bringrr App, comprises a complete system for tracking and recovering items. Use the Bringrr App to track down a misplaced tagged item by distance or sound, within a 50-150ft range. While some Bluetooth leash products can only find items from the main device, smartphones equipped with the Bringrr App, and every Bringrr user driving on the road, has the ability to help find lost items.
"Every time you start your car, Bringrr will search for your phone. If your phone's not there, Bringrr notifies you with a friendly flash and sound. You can attach BringTags to the items you want to bring with you, like your wallet, backpack, laptop, and as soon as you start your car, Bringrr searches for your tagged items too. If anything is missing, Bringrr will send a notification to your phone, specifying which tagged item was left behind," said Aldo Beqiraj, Bringrr co-founder and CEO.
Users can create a schedule or sync Bringrr with their Apple or Google Calendar and remember the items they need every day, or things they need for a specific event.
Still can't find an item? Mark the item as 'missing' on the app. This will silently and discreetly put the entire Bringrr community on the lookout for a tagged item. When anyone with a Bringrr, or the Bringrr App on their phone gets within range of the lost item, you will get a notification of its location; securely and anonymously. Maintaining privacy and location data is our first priority; Bringrr users are never shown any other users physical location.
The Bringrr App will be available for iOS, Android, and even Google Glass. With Google Glass, all of Bringrr's features come alive right before your eyes. If Bringrr notices an item was left behind, Glass can show a picture of the item. Assigning BringTags is easy with Glass. Take a picture of the item and assign it to a BringTag. If you misplace something, just ask Glass and it will guide a user to its location.
"The introduction of Bringrr and BringTags is a huge step towards accomplishing our goal of making people's lives easier by designing the highest quality products," said Beqiraj. "Preventing people from feeling stressed about having to turn around after they had already left to retrieve something they had forgotten, and reducing the hassle of finding misplaced items is a great place to start. Attaching just one BringTag to a precious item, or a beloved pet can give someone peace of mind knowing that what's most important to them is being watched out for by a community of people who care. That's why we do this."
Bringrr's Other Key Features Include:

Bringrr tracks tagged items and charges any USB device.
BringTags are small and come in a variety of colors.
BringTags last a year and have replaceable batteries, with Bluetooth Low Energy a smartphone won't suffer from battery loss. The Bringrr app provides notification when the battery needs to be changed.
Share access to BringTags and conveniently manage permissions through the App.
If a BringTag is outside of range, use the app to check its last known GPS location.
Bringrr officially launched on 12/23/2013 and hopes to raise $75,000 to finalize development and begin manufacturing for the first batch of Bringrr and BringTags. Bringrr is $39, and BringTags are $19 each for the duration of the campaign, after the campaign they will retail for $49 and $25 respectively.
"If the Kickstarter campaign is successful, we will be able to produce Bringrr in black, and BringTags in white. However if we are able to exceed our goal, we will be able to manufacture the Bringrr in white, and BringTags will also be available in green, gray, yellow, red, purple, and blue," said Beqiraj.
A limited quantity of early bird bundles will be available for backers starting at $49 which includes a Bringrr and one BringTag in an exclusive champagne color. Using Kickstarter, the leading crowdfunding platform, the Bringrr campaign will run through 2/03/2014 with the products shipping summer 2014.
Find out more and help fund Bringrr here: http://www.Bringrr.com + kck.st/1iehjbm
About Bringrr:
Bringrr Systems LLC was founded in 2009 by James Logan. Bringrr is currently operated by Aldo Beqiraj (CEO) and James Logan (Chairman). Headquartered in Massachusetts, Bringrr is dedicated to developing new and simple devices designed at helping consumers improve their day-to-day lives. The inaugural devices of Bringrr and BringTags are focused around helping people remember to bring a phone and other belongings with them before they drive away, creating a dynamic (or static) schedule for when to bring things, and finding any misplaced or lost items.