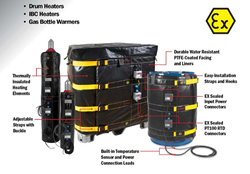 "For facility maintenance managers, process engineers and production managers who routinely deal with these containers in hazardous areas, BriskHeat's new ATEX-certified heaters are the solution they need."
COLUMBUS, Ohio (PRWEB) April 16, 2019
BriskHeat, a leading provider of flexible heating, insulating, and temperature control solutions, announced today the release of its ATEX-certified bulk storage container heaters. The heaters are designed to protect the contents of bulk containers such as drums, IBC tanks and gas bottles from damage due to cold temperatures and can be safely used in hazardous areas. They can also be used for warming.
Industries such as petrochemical, oil and gas, cosmetics, fertilizers, pharmaceutical, and specialty gasses often need to store and dispense many types of liquids and gasses within designated hazardous areas. They're rated IP65/I and acceptable for indoor or outdoor use. Common containers include 200-220 litre/55-gallon drums, 1000 litre/250-gallon IBC tanks, and 10, 50, and 79-litre gas bottles.
"If a heater isn't used to protect or heat the contents of a container the increase of production time and cost or damage to equipment could be very costly and cause serious downtime," said Klaus Kolleck, Vice President of European Sales, BriskHeat. "For facility maintenance managers, process engineers and production managers who routinely deal with these containers in hazardous areas, BriskHeat's new ATEX-certified heaters are the solution they need."
Additionally, BriskHeat offers an ATEX-certified temperature controller/high-limit combination unit for use with all ATEX heaters. It features an operating temperature control, high-limit temperature limiter, a power limiting control, a clear window to easily monitor temperature, 25-amp capacity, and a temperature controlling range up to 450°C.
To see the full range of BriskHeat's solutions, visit the web site or call 888-501-7491.
About BriskHeat
Since 1949, BriskHeat has provided flexible heating solutions used for freeze protection, condensation prevention, flow/viscosity control, vacuum bake-out, composite curing, and temperature process control. BriskHeat's primary manufacturing facilities and headquarters are located in Columbus, Ohio. BriskHeat has a worldwide sales network including sales offices in Taiwan, China, Germany, France and Austria, as well as a manufacturing facility in Vietnam. In 2017, BriskHeat was named to the Inc. 5000 list of fastest-growing private companies in America. Follow BriskHeat on Twitter (@BriskHeat), on Facebook or on LinkedIn.