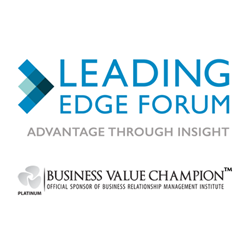 We are very proud to have CSC LEF as one of BRMI's premier sponsors. CSC LEF has recognized the importance of a BRM capability, since 2006, and has been very active promoting the importance of the BRM role." -- BRMI CEO, Aaron Barnes
New York, September 18, 2014 (PRWEB) September 18, 2014
Business Relationship Management Institute (BRMI), the leading Business Relationship Management (BRM) professional membership, development, and certification organization and CSC's Leading Edge Forum (CSC LEF), the preeminent research and thought-leadership company, today announced CSC LEF's Platinum Sponsorship of BRMI.
In an effort to maximize business value, leading organizations around the globe are implementing or expanding their BRM capabilities. These organizations are looking to BRMI and its training and consulting partners to guide them through successful business transformations leveraging BRMI membership, professional development programs, and BRMP certification. "We are very proud to have CSC LEF as one of BRMI's premier sponsors. CSC LEF has recognized the importance of a BRM capability, since 2006, and has been very active promoting the importance of the BRM role," said BRMI CEO Aaron Barnes.
"I am delighted to confirm our sponsorship of BRMI to demonstrate CSC LEF's commitment to this important and evolving discipline," said Richard Davies, CSC LEF's managing director. "The BRM role plays a vital part to help deliver Enterprise IT's share of the digital leadership required for the firm to be effective in today's technology-intensive marketplaces."
"Successful BRMs know that their effectiveness depends on the impact and experience that they create in the minds of their business partners. We have been developing and delivering BRM Education and Training programmes to address this need for many years," said Kirtland Mead, senior consultant, CSC LEF.
The groundbreaking 2006 CSC LEF BRM research report explored this topic and introduced the model of the 4Ps: Enterprise IT's primary relationship to "the business" may include one or more of the following roles – Provider, Promoter, Partner, or Peer.
CSC LEF's latest research looks at how outside-in technology forces mean BRMs will need to transform into true digital leaders. To learn more about CSC LEF BRM Research visit: http://www.lef.csc.com/brm
About CSC's Leading Edge Forum
CSC LEF is a global research and thought-leadership community dedicated to helping large organizations identify and adopt Next Practices at the growing intersection between business and information technology. Through an annual membership programme of research, events, workshops and advisory services, CSC LEF supports CIOs and other senior Business/IT leaders in areas such as visioning, strategy, organizational change, executive education, staff development and the future of the central IT function. Members enjoy personalized access to a global network of thought leaders, clients and leading practitioners. For more information, please visit http://www.lef.csc.com
About Business Relationship Management Institute
BRMI is the world's first and only membership, professional development, and certification organization dedicated to serving the global BRM community. BRMI provides world-class professional membership and development programs to advance the art and discipline of BRM and help maximize Business Relationship Management capability in organizations. Business Relationship Management Institute was incorporated as a nonprofit corporation in February 2013. For more information, please visit http://brminstitute.org