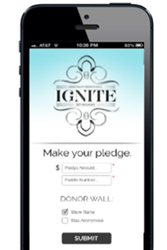 Transforming the auction paddle raise into a mobile fundraising experience is great for the cause, and fun for donors.
Portland, OR (PRWEB) October 19, 2013
Mobile applications may have just changed fundraising events for good—and for the better.
The awards night and auction dinner have long been staples for fundraisers, with over $1 billion raised through charitable auctions and table sponsorship in 2012. Now mobile technology and live events have converged to create a new, digital fundraising experience, finally bridging the gap between online and in-person fundraising.
Last Friday, Basic Rights Oregon, an organization dedicated to promoting rights for LGBTQ Oregonians, teamed up with CafeGive Social for Ignite!, BRO's yearly gala and major fundraising event. This year, Basic Rights Oregon aimed to move beyond the traditional paddle-raise to engage guests on a whole new level in the gala auction.
What followed was the most successful gala night in the nonprofit's history. Over nine hundred guests gathered at the Portland Art Museum to demonstrate their support and help raise over $460,000.
For the first time, Ignite! guests were encouraged to use their phones to take part in a mobile-powered live auction event, achieving record-breaking fundraising levels. Guests bid on stellar prizes—a one-week stay in Hawaii or a private dinner with former MLB player Billy Bean, for instance—simply by texting their paddle numbers, bid amounts, and the word "IGNITE" to 55155. Real-time bids were displayed on screens at the event, making it easy for guests to stay updated, cross their fingers, and watch to see if they won.
The fuel behind the success of Ignite! was a suite of CafeGive Social apps that empower donors to pledge through their phones, visually display auction progress, and connect with other fans on Facebook. CafeGive's unique platform also integrated with BRO's existing social media presence to amplify their impact. The app showcased BRO's live Twitter feed, encouraging gala guests to not only bid and donate, but also tweet their excitement using BRO's event hashtag #ignite4m, and watch their tweets appear on the large display screens.The virtual Donor Wall automatically updated progress made towards BRO's goal, as well as names and tweets from donors.
Over $5,000 was raised using the Mobile Paddle Raise app alone, and hundreds of guests used their smartphones to bid and share posts about Ignite! 2013. Built-in social sharing features also helped connect gala guests with Basic Rights Oregon's Facebook page, growing the nonprofit's online audience through new Likes and taking the cause even further.
Basic Rights Oregon was able to fire up its fundraising by combining the excitement of a live event with the simplicity and fun of mobile. Organizations like BRO can do the same by using mobile paddle raise apps to engage event attendees with a mobile call to action. The possibilities are endless. Using this application, fundraisers can host live and digital events that connect supporters across the globe, or simplify giving on the go during outdoor fundraising events.
Mobile paddle raise options can also ensure that fund collection and check-out fit seamlessly with the rest of the auction event. This leads to greater fulfillment of pledges, more funds raised for the cause, and happier, more involved donors.
About CafeGive Social
CafeGive is the only company that combines social media marketing with meaningful, action-oriented cause marketing applications. Using our product, CafeGive Social, we have helped companies, agencies and nonprofits of all sizes connect with customers to build brand, enhance reputation, raise awareness and effect social change. Headquartered in Portland, Oregon, CafeGive is a privately held company. For more information, visit http://www.cafegive.com.
About Basic Rights Oregon
Founded in 1996, Basic Rights Oregon (BRO) is the state's chief advocacy, education and political organization dedicated to ending discrimination based on sexual orientation and gender identity. BRO is a 501(c)(4) organization, and is dedicated to strengthening Oregon's LGBT rights movement. Basic Rights Oregon is a member of the Equality Federation. [http://www.basicrights.org/