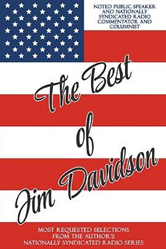 "I continued to think what a great gift it would be for graduation or a birthday present, as it talks about character, courage, leadership, responsibility, and other important life-learning qualities. This book warmed my heart, and I know it will do the same for others." – author Carl J. Barger
CONWAY, Ark. (PRWEB) October 08, 2019
Forty years ago, Jim Davidson began writing and producing his daily radio program, "How to Plan Your Life." Broadcast over 300 radio stations across the country, his three-minute topics are just as timely today as they were in 1979.
A quick scan of the book's Subject Index reveals that "The Best of Jim Davidson" is really "A Textbook for Life," perhaps unlike any other book that has ever been written. It is destined to be a NYT Best Seller and is not a book to be read once and put on a shelf, but rather to be kept close at hand to be read, reread, and referred to often.
This book is a terrific read for everyone, but it is "The Gold Standard" when it comes as a gift, especially for high school and college graduates. As the holiday gift-giving season approaches, the book will be treasured by those who receive it for Christmas, as well as for other special occasions, especially as a wedding, anniversary, promotion, or honors gift.
Dr. Ben McNew, a retired college professor at the University of Central Arkansas in Conway, and the former head of the College of Business at the University of Mississippi (Old Miss) in Oxford, writes:
"'The Best of Jim Davidson' is a collection of vignettes meant to encourage and inspire. It does that with 60 short stories covering common-sense tenets ranging from the comical, innovative, and motivational to the sad, restorative, and eternal. It is a good read. It is pertinent to the defiant times we are experiencing. It is divergent in its presentation … the stories contain such deep thoughts and principles that a reader will need to stop and think about them before going on … Not often is it necessary to point out the usefulness of the extras that accompany a written work, but it is in this book. For anyone who has need of speech material, of reference to wise ideas, or of a list covering any number of desirable practices, the Table of Contents and the Subject Index in this book will lead quickly to the topics presented."
The book's Amazon 5-star reviews include:
"These philosophies helped me develop my theory in business that hard work can make up for a lot of mistakes!" – Sam E. Southerland
"I totally enjoyed Jim Davidson's book, 'The Best of Jim Davidson.' Originally, I planned to leave it on my coffee table and read a little each day, or when I had time to rest, but I found it hard to put down. Each article intrigued me, and I kept reading until I finished the book within a day. His short stories entertain and show examples of good living practices that can help anyone young or old, rich or poor. I will leave it on my coffee table and read it again, and again." – Nancy Powell
"This is truly 'The Best of Jim Davidson.' It is uplifting, inspiring, and faith centered. It may even be the secret of success! Each program/chapter will challenge you to reflect on your own ideas and philosophies. This book is wonderful for anyone who wishes to be an entrepreneur." – Paula Shupps
"If you are looking for a book filled with wisdom, humor, and good, old-fashioned common sense, Jim Davidson's latest volume is a must-read. As a longtime journalist and writer, Jim knows how to communicate; as a true civic leader and as the founder of the visionary 'Bookcase for Every Child' program, he has valuable insights and advice that we all should take to heart." – Bill Tsutsui
"As a former educator and author, I can wholeheartedly recommend Jim's new book … he gives his readers hope, encouragement, and inspiration, which lift one's spirits and renews our faith in God and our fellow man … I continued to think what a great gift it would be for graduation or a birthday present, as it talks about character, courage, leadership, responsibility, and other important life-learning qualities. This book warmed my heart, and I know it will do the same for others as well." – Carl J. Barger
Watch the video book trailer at: https://youtu.be/ze5_nfJPd0o
About the Author: Jim Davidson is a businessman and native of Gould, Arkansas. His career as a public speaker, author, syndicated columnist and motivational consultant, has spanned more than 45 years. His awards and achievements include: Arkansas Salesman of the Year, chairman of the Little Rock Chamber of Commerce's Diamond Club sales organization, Justice of the Peace in Pulaski County, chairman of the Speakers Bureau of the Pulaski County United Way, and honorary member of the DECA & GCE Clubs of Arkansas. He was also presented with the "Good Neighbor Award" by the Conway Area Chamber of Commerce and is the 2010 "Distinguished Service Award" winner for Conway Public Schools. A member of the Conway Noon Lions Club for over 20 years, he has held every leadership position and won all their awards. In November 2013, he was given a Senate Citation and the Conway Community Service Award by Senator Jason Rapert during a ceremony at the Faulkner County Library.
"If you missed these wonderful radio programs the first time around or would love to hear them again, Jim Davidson is now offering his most popular programs in print. We are thrilled to be his publisher," said Robert Fletcher, CEO of Strategic Book Publishing and Rights Agency.
THE BEST OF JIM DAVIDSON: MOST REQUESTED SELECTIONS FROM THE AUTHOR'S NATIONALLY SYNDICATED RADIO SERIES (ISBN: 978-1-950015-64-1) is now available for $16.95 and can be ordered through the publisher's website: http://www.sbprabooks.com/JimDavidson or at your favorite book seller.
WHOLESALERS: This book is distributed by Ingram Books and other wholesale distributors. Contact your representative with the ISBN for purchase. Wholesale purchase for retailers, universities, libraries, and other organizations is also available through the publisher; please email bookorder@sbpra.net.