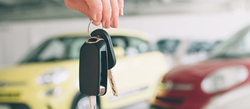 YONKERS, N.Y. (PRWEB) December 06, 2018
For many, the luxury descriptor denotes an item that is too expensive for an expected budget. When buying from luxury brand dealerships, drivers can expect the cheapest models on their lot to have starting prices of $40,000 with some models going well over $100,000 to include the very best in terms of power, comfort and technology among other features. However, it is possible for drivers to purchase a brand-new and well-conditioned luxury model at an affordable price depending on the shopping location. For drivers in the area of Yonkers, New York, the Broadway Auto Brokers dealership is the perfect location to serve this need with an inventory filled with a variety of 2018 luxury brands and models.
Luxury brands with new vehicles currently within the Broadway Auto Brokers inventory include Acura, Audi, Infiniti, Lexus and Mercedes-Benz. The 2018 models offered include a 2018 Acura TLX performance luxury sedan, a 2018 Infiniti Q80 full-size luxury SUV and a 2018 Mercedes-Benz GLC 300 luxury coupe. For drivers on a stricter budget, a greater array of used luxury models is available within the pre-owned inventory of Broadway Auto Brokers, including BMW, Cadillac and Lincoln models. Current listings are subject to change, although new arrivals are regularly added to supplement the losses.
Drivers interested in shopping for an affordable luxury model can begin their search by browsing the online inventory of Broadway Auto Brokers. Along with a number of luxury brands featured, Broadway Auto Brokers also stocks many additional automotive brands including Ford, Honda, Jeep and Toyota. To contact the dealership, customers can use online access at the dealership website or by calling 914-613-4482. Lastly, drivers in the Westchester County area can visit the dealership directly for a more personal touch. The Broadway Auto Brokers dealership is located at 591 S. Broadway St., Yonkers, New York 10705.