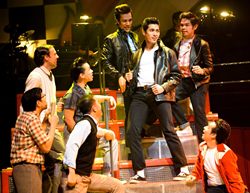 "We are looking for Bay Area youth who love to sing and dance to feature in our youth movie musical." - Director, John Bisceglie
San Francisco, CA (PRWEB) March 28, 2016
Director, Producer, and Filmmaker John Bisceglie seeks local youth ages 8-21 to appear in "Broadway Movie Musical," a salute to the American musical. This dynamic movie musical celebrates musical theater in all its many forms, paying tribute to both the beloved classics that have come to define the medium, and today's revolutionary game-changers that are bringing new life to the art form.
Local youth will recreate Broadway's greatest moments on film in an original new movie beginning production this spring. Participants will record in a professional recording studio, work on a movie set with a film crew, then see themselves on the silver screen when "Broadway Movie Musical" premieres in selected Bay Area movie theaters in January 2017.
John Bisceglie added, "We are looking for Bay Area youth who love to sing and dance to feature in our youth movie musical. Seeing yourself on the screen in an actual movie theater is a very cool experience for actors of all ages, and we are excited to give local youth an opportunity to participate in this exciting film. This project offers a variety of singing, dancing and speaking roles for a wide range of ages, talent and levels of experience." The film will be shot and edited by professional filmmakers Nils and Mattie Myers of 152 West Productions in Gilroy, California.
Nils Myers, cofounder of 152 West with his partner Mattie, is looking forward to the collaboration. "It's really exciting to be doing a third film with John. For me it's a great creative opportunity, but for most kids it's a truly once-in-a-lifetime chance to be part of something that's usually just dreamed about, which makes it more exciting and special for me." Mattie Myers adds, "We've seen John draw out amazing performances from his actors, and he's always pushing the envelope with the creative process of filmmaking. If you want to get into film and television, this is a great opportunity to hone your skills and build your reel."
The film will rehearse and be filmed in San Francisco, Morgan Hill, Gilroy and San Jose. Auditions will take place in May, and filming will start in early August. Cast members will appear in multiple solo, duet, group and ensemble numbers. No experience required, and all who audition will be accepted. The program consists of one rehearsal per week and will be offered in San Francisco, San Jose & Morgan Hill.
Since 1985, John Bisceglie has created, directed and choreographed hundreds of community, commercial, and professional productions featuring actors of all ages. Since 1991, he has created and founded three Bay Area performing arts groups in San Jose (SBCMT) Morgan Hill/Gilroy (GCMT) and San Francisco (SFCMT) producing original musical revues and scripted plays as well as feature films. His large scale productions have appeared at the Herbst Theater, Marine's Memorial Theater, Pier 39 and Palace of Fine Arts Theater in San Francisco.
In 2012, John Bisceglie and his team wrote, directed, and produced an original youth movie musical "Gleeful" (a parody based on the popular TV series Glee,) that featured over one hundred local youth and played for ten weeks at the Cinelux Theatre in Morgan Hill. In 2013, John created and produced "ROAR!" a stylized 1920's black and white movie musical that played to sellout crowds in the historic Castro Theater in San Francisco.
Auditions for "Broadway Movie Musical," will take place in San Jose on Wednesday, May 18th; in San Francisco on Saturday, May 21st; and in Morgan Hill on Thursday, May 26th. For more information or to make your appointment to audition, please visit: http://www.broadwaymoviemusical.com