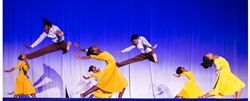 We hope to inspire our students to pursue any show with confidence, as a potential performer ... We also seek to pay homage to specific Black musicals that have had a significant impact on American Culture." – Lakai Worrell, Co-Artistic Dir., Purelements
New York, NY (PRWEB) June 22, 2017
Now in its 10th year, Purelements' COAR program presents "BROADWAY, Our Way!" the culminating year theatrical concert will present a full scripted musical, with dance and live singing, featuring over 15+ ballet, modern, West African, tap, jazz dance and select vocal performances. BROADWAY, Our Way!" will showcase new works inspired by select Broadway shows critical to Black American history, including "The Wiz;" "Motown;" "Porgy & Bess;" "Dreamgirls;" "Bubblin' Brown Sugar;" "Purlie;" "Bring in the Noise;" "FELA!" and more choreographed and developed by the COAR program's teaching artists. COAR's 2017 teaching artists include: Tricia Greenidge (early childhood fundamentals); Keisha Washington (early childhood fundamentals); Halima Lawrence (ballet); Eddie Stockton (modern/jazz); Hollie Wright (ballet/tap); Men Ca (modern); Calvin Booker (tap); Latra Wilson (ballet); Whilhemenia Taylor (West African); Edwian Stokes (West African drumming); and Najja Codrington (West African drumming).
This year's theme, "BROADWAY, Our Way!" signifies more than the famed musicals that Purelements' COAR students will deliver performances from, but is also references the will to pursue Broadway style theater careers despite Broadway's historically limited and often marginalized opportunities for playwrights, directors and performers of color. Recognizing that Broadway shows have become the quintessential portrayal of success for actors, dancers and musicians, the theme speaks to Purelements' initiative to expose the rich legacy of Black Broadway with children of color, so that they will be able to establish a connection that is rooted in appreciation and respect for those who've opened doors to create an opportunity in an industry that was once not an option for them.
"This years' Spring concert production, "BROADWAY, Our Way!" will present all classes via the musical theater aesthetic with an intended focus on music from shows performed by, produced by, storyline inspired by the Black experience. We hope to inspire our students and families to pursue any show with confidence, either as a potential performer or audience member to experience the wonders and magic of the theater. We also seek to pay homage to specific Black musicals that have had a significant impact on American Culture." – Lakai Worrell, Co-Artistic Director, Purelements, an Evolution in Dance
Students performing range from ages 3-21 and vary in experience from novice to pre-professional. All of the COAR students have trained in 2-5 dance genres in preparation for the performance for 9 months.
"BROADWAY, Our Way!" will be held on Sunday, June 25, 2017 at Prospect Heights High School, located at 883 Classon Avenue Brooklyn, NY 11225. Doors open at 1:15pm and the performance starts at 2pm. General admission is $25 and tickets will be available available at the door.
Funding for this program is provided by the Department of Cultural Affairs, the office of Council Member Inez Barron and the office of Assembly Member Latrice Walker.
To connect with Purelements, join the Purelements Facebook community, follow @Purelements on Twitter and on Instagram and on YouTube @Purelements. Follow the conversation online at #BroadwayOurWay. For downloadable images and other Broadway Our Way press assets, visit http://bit.ly/PEBroadway. Photo credit: H1 Photography.
ABOUT PURELEMENTS, AN EVOLUTION IN DANCE
Purelements: an Evolution in Dance ("PE") is a 501(c) 3 performing arts organization founded in 2006, by Kevin A. Joseph and Lakai Worrell. The mission of PE is to use multiple facets of the performing arts as educational tools to evolve and transform the individuals and communities it serves, and to present dynamic performances that are socially relevant and impactful. PE's mission unfolds through an art-in-education program, a performing arts program and its professional and pre-professional dance companies. To learn more about Purelements, visit purelements.org.