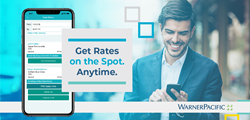 Brokers can quickly and conveniently give their clients key information.
WESTLAKE VILLAGE, Calif. (PRWEB) March 19, 2019
Warner Pacific is excited to announce two new features on its mobile app that saves health insurance brokers time and provides them with even more convenience.
The Warner Pacific App now allows brokers to create and save age-rate tables anywhere, on the spot. That means brokers can quickly and conveniently give their clients key information on premium costs, deductibles and more.
The app's second new feature — Push Notifications — gives brokers alerts on their mobile device when there is a status change on their group's insurance application. This will allow brokers to receive updates on the go. Status alerts include updates such as "New," "Submitted to Carrier" and "Approved." This feature is directly connected to the app's dynamic Case Status tool.
In addition, the app's new rate-table feature — called Quick Rate — is connected to Warner Pacific's powerful quoting engine, PRO Quote. So brokers will have the most up-to-date information on insurance plans.
Both of these features are exclusive to the Warner Pacific App.
The app is only available to brokers who partner with the company, but it comes at no cost. Brokers who would like to partner with Warner Pacific can call (800) 801-2300.
The app can be downloaded at the App Store or Google Play.
###
About Warner Pacific
Warner Pacific provides health insurance agents with sales assistance, innovative technology and back-office support — the tools they need to grow their business in a rapidly changing marketplace. With strong leadership and a focus on building and deepening its relationships, the company has become a top-producing General Agency for many of the nation's largest health insurance carriers.
A vital resource for its agent partners, Warner Pacific's highly skilled family of employees has been serving agents for more than 30 years. It is based in Westlake Village, Calif.