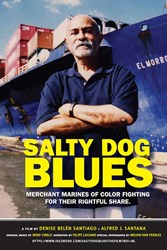 The Bronx has a long history of musical, artistic, and literary talent.
(PRWEB) September 13, 2013
The Bronx Music Heritage Center (BMHC) Lab's acclaimed series Bronx Rising! Music, Film & Spoken Word of the Borough continues in September with three nights of programming. Curated by folklorist Elena Martínez of City Lore and Grammy-nominated musician Bobby Sanabria, the on-going series showcases the breadth of arts about the Bronx, by Bronx artists or significant to the borough's community.
September Bronx Rising! Events
Music: Jacqueline Flowers, featuring Ray Martinez on bass, Adam Perez on piano, and Fred Walls on percussion
Thursday, September 19, 8:00pm
Vocalist Jacqueline Flowers combines contemporary pop, gospel, and R&B sounds, performing regularly with the NuyoRican School Original Poetry and Jazz Ensemble, and has even been a guest performer on the Tonight Show.
Film: Salty Dog Blues screening and Q&A with directors Al Santana and Denise Belén Santiago, and Porto Rico Steamship Line collector Ralph Méndez
Friday, September 20, 8:00pm
Salty Dog Blues is a newly-released documentary detailing the history of Merchant Marines of color, their relationship with the National Maritime Union, and the subsequent loss of hard-earned benefits for many of the retired mariners. Co-producer Al Santana's credits include acclaimed documentaries Military Option and Voices of the Gods. Santana collaborated on Salty Dog Blues with historian Denise Belén Santiago, who currently serves as the director of Multicultural Affairs at Pace University. Collector Ralph Méndez will display and present artifacts from the New York & Porto Rico Steamship Co.
Palabras/Words: Speak English!: The Rise of Latinos in Baseball with author Rafael Hermoso and photographer Rita Rivera
Saturday, September 21, 7:30pm
Rafael Hermoso has covered baseball for publications such as the New York Daily News and The New York Times, and he currently works for UNICEF. His latest work, a collaboration with photographer Rita Rivera, illustrates the difficulties and triumphs of the last half-century for Latino baseball players. From tales of leaving home in their early teenage years to stories of clubhouse alienation today, the history of Latinos in baseball has been – and in some ways continues to be – one of struggle. The book features a foreword from Major League Baseball Commissioner Bud Selig and an afterword by Omar Minaya, former GM of the New York Mets.
There is a suggested donation of $5 for each performance. The BMHC Lab is located at 1303 Louis Niñé Blvd. in the Bronx. Take the 2 or 5 train to Freeman Street.
"The Bronx has a long history of musical, artistic, and literary talent emerging from here," says Martinez, the co-producer of the ALMA-award-winning film, From Mambo to Hip Hop, about the creative life of the South Bronx. Sanabria adds, "Bronx Rising! looks to our roots and our future; it has made the BMHC Lab an epicenter for some of the always-swirling creative juices of the Bronx."
Bronx Rising! is co-sponsored by City Lore. BMHC programming is made possible with support from The Kresge Foundation, Deutsche Bank Americas Foundation, and The Rockefeller Foundation Cultural Innovation Fund.
About the Bronx Music Heritage Center
The Bronx Music Heritage Center (BMHC) celebrates the rich history and creative spirit that defines Bronx music, from jazz, salsa, R&B and hip hop to new sounds coming to life across the borough. Founded by the Women's Housing and Economic Development Corporation (WHEDco), the BMHC is committed to preserving and promoting Bronx music, cultivating Bronx artists, spurring neighborhood revival, and providing free cultural programs for the community. The BMHC presents performances and other events at the storefront BMHC Lab in Crotona Park East, and at venues across the Bronx. For more information about the BMHC, please contact info(at)bronxmusic(dot)org or visit bronxmusic.org.
About WHEDco
The Women's Housing and Economic Development Corporation (WHEDco) has worked for over twenty years to build a more beautiful, equitable and economically vibrant Bronx. WHEDco reaches over 35,000 people annually through energy-efficient, healthy and affordable homes; early childhood education and youth development; home-based childcare microenterprise and food business incubation; family support services; and arts programming. To learn more, visit WHEDco.org.
About City Lore
City Lore was founded in 1986 and its mission is to foster New York City's – and America's – living cultural heritage through education and public programs. The mission is to document, present, and advocate for New York City's grassroots cultures to ensure their living legacy in stories and histories, places and traditions. City Lore's programs include the People's Hall of Fame, the Place Matters Awards, Arts in Education programs in the schools, and an interactive story map of New York.