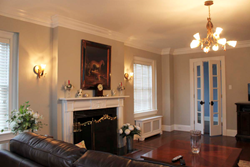 newly renovated apartments in true move in condition are hard to find
Bronxville, NY (PRWEB) May 19, 2014
Windsurf Publishing LLC announces a newly renovated co-op that hits the market in Bronxville, New York. What makes this significant is the time consuming process and challenges that renovating large apartments in older buildings there can have.
According to the owners of the 4 bedroom, 2.5 bath apartment at 133 Pondfield Road in Bronxville, New York, there was a lot more in store for them than they anticipated. The Lagana's stated, "it was almost six months before we even started any work. That's because we first worked with an architect to draw up plans, went for co-op board approval of the plans, and also had to get the plans approved by the local building department." The Lagana's also stated "there were many requirements getting everything up to code. And, since we were replacing 20 windows and two sets of exterior French doors, we had to go before a special design review committee and the Bronxville Village Planning Board." Later they describe the difficulties of changing contractors and finally ending up with a good one. It wasn't until they hired Arthur Lange, Inc. to take over the renovation that they started making progress and getting high quality results. Arthur Lange, Inc. is a construction company located in Bronxville, New York, whose family has been in the construction business for generations in the area.
One of things that the Lagana's learned is that renovating an apartment can be as time consuming and expensive as building a house. They said that, "the apartment was a particular challenge because the building is 100 years old and has no elevator." All demolition debris had to be carried down, and construction materials up three flights of stairs by the contractors. This did not deter Arthur Lange though. Eventually the renovation became complete. The apartment has all new electrical and plumbing, a new granite and stainless steel eat in kitchen, newly renovated bathrooms, new windows, doors, floors, moldings, custom blinds, in unit laundry, thru-wall air conditioners, and low VOC paints used throughout. It is also located directly across the street from the Bronxville School. It even has hard wired ethernet outlets in every room, a very rare asset in an older apartment.
Unfortunately, in spite of the Lagana's time and work renovating this apartment, the school ended up not being a match for their son. So they decided to move on. And they put the apartment on the market with Julia B. Fee Sotheby's International Realty in Bronxville. The Lagana's said that, "this is a great opportunity for a buyer who has no desire or time to renovate and wants to move right in. They would be fortunate to avoid the significant time, expense and challenge of renovating themselves. In our case, it was like having a full-time job."
It is clear that in the Lagana's experience, renovating apartments in older multi-family buildings in Bronxville can be quite costly and difficult. They said that, "newly renovated apartments in true move in condition are hard to find. We learned this the hard way after living through this renovation."