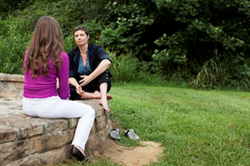 Knoxville, TN (PRWEB) March 13, 2014
March is Brain Injury Awareness Month hosted by the Brain Injury Association of America. Brookhaven Retreat recognizes that emotional injuries to the brain can be just as damaging as physical injuries. This month, Brookhaven Retreat focuses on the various methods used to heal women who suffer from emotional brain injuries such as posttraumatic stress disorder.
Posttraumatic Stress Disorder results from experiencing traumatic events. It is an anxiety disorder that may begin immediately after a trauma, but can even show up years later. PTSD prevents the body from healing itself from trauma, leaving long-term changes to the brain.
According to research, women are at higher risk for developing PTSD. Nearly half of all women experience a traumatic event in their life including, sexual assault. Although PTSD can co-occur with other mental health issues such as borderline personality disorder, substance abuse and depression, it is important to differentiate them and avoid common misdiagnoses.
Repeated or pro-longed trauma hinders the development of effective interpersonal skills, emotional regulation and distress tolerance skills. Women suffering from PTSD relive the trauma through night terrors and flashbacks. Women may try to avoid trigger events, isolating themselves, or turn to substance abuse as a way of coping. To heal from emotional trauma and repair disrupted lives, it is crucial that these symptoms are addressed.
Women must learn effective ways of coping with the anxiety resulting from trauma. Brookhaven Retreat incorporates various therapies, including eye motion desensitization and reprocessing, cognitive behavioral therapy and equine therapy into trauma recovery.
Cognitive behavior therapy targets a woman's core beliefs, replacing negative thoughts and behaviors with positive ones. EMDR therapy is designed to process traumatic events and eliminates emotional blockades that hinder progress. It is a quick and effective way of letting go of the trauma, relieving emotional distress.
At Brookhaven Retreat women suffering from PTSD are given the tools they need to repair damage stemming from emotional trauma to the brain. Through multiple therapies women learn effective, long-term ways of coping with anxiety. Though negative memories remain, women are capable of moving forward into fulfilling lives while maintaining emotional control.
About Brookhaven Retreat
Brookhaven Retreat is a women's treatment center nestled on a naturally beautiful 48-acre site secluded in the foothills of the Great Smoky Mountains. It has helped hundreds of women across the United States overcome depression, trauma, anxiety, substance use and a range of other behavioral health challenges. Brookhaven's Founder, Jacqueline Dawes, has predicated its gender-specific treatment on "healing emotional breakage" for women. In this way, she has established a sanctuary and a place where women can feel safe, secure and cared for by a staff of highly trained professionals.