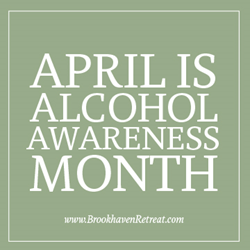 Knoxville, TN (PRWEB) April 07, 2016
Brookhaven Retreat ® LLC, a unique residential treatment facility exclusively for women with mental health and/or substance abuse issues, will discuss important facts about alcoholism during national Alcohol Awareness Month, April 2016.
Founded and sponsored by the National Council on Alcoholism and Drug Dependence (NCADD), Alcohol Awareness Month was established in 1987 to chip away at the stigma of alcoholism by encouraging people, organizations and communities to share information about alcohol, alcoholism and recovery.
According to the NCADD, alcoholism is a chronic, progressive disease, genetically predisposed and fatal if untreated. However, an estimated 20 million individuals and family members are in recovery for alcoholism.
The Centers for Disease Control and Prevention says, "Excessive alcohol use, including underage drinking and binge drinking (drinking 5 or more drinks on an occasion for men or 4 or more drinks on an occasion for women), can lead to increased risk of health problems such as injuries, violence, liver diseases, and cancer."
Clients of Brookhaven Retreat who are in treatment for alcoholism, and even those who are not but may be in the habit of casual alcohol use, will learn that 30,000 Americans died from alcohol-related incidents in 2014, according to the CDC. The number of alcohol-related deaths is the highest it's been in 35 years.
Causes of death included cirrhosis (liver damage primarily caused by drinking), alcohol poisoning, drunk driving and other homicides committed while under the influence of alcohol.
Since 2002, says The Medical Daily, there have been 9.6 alcohol-related deaths per 100,000 people, a statistic that has risen 37 percent.
The Lily Program ®, a 90-day program for women offered exclusively at Brookhaven Retreat, provides a safe haven for women to recover from the mental and physical dangers of alcoholism, and rebuild their lives, by engaging in an individualized mental health program designed for success.
"We at Brookhaven Retreat believe addiction and the use of substances, including alcohol, are symptoms of a deeper issue," says Brookhaven Retreat's founder, Jacqueline Dawes. "Sometimes alcoholism is an attempt to control or numb negative feelings like loneliness or worthlessness. Alcohol is one of the most accessible and culturally accepted substances, which makes it one of the most likely to be used and abused."
Brookhaven Retreat uses a multi-level approach to treat the emotional breakage an alcoholic or drug addict typically suffers.
"Eventually, the need for outside substances becomes unnecessary, unappealing and appropriately viewed as the enemy of mindfulness and happiness," Dawes adds. "It's a process of creating a life worth living, which works for many women."
About Brookhaven Retreat
Brookhaven Retreat is a women's treatment center nestled on a naturally beautiful 48-acre site secluded in the foothills of the Great Smoky Mountains. It has helped hundreds of women across the United States overcome depression, trauma, anxiety, substance use and a range of other behavioral health challenges. Brookhaven's Founder, Jacqueline Dawes, has predicated its gender-specific treatment on "healing emotional breakage" for women. In this way, she has established a sanctuary and a place where women can feel safe, secure and cared for by a staff of highly trained professionals.