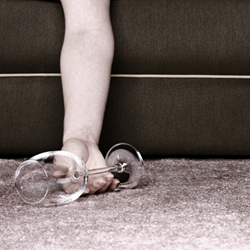 Knoxville, TN (PRWEB) April 01, 2015
Brookhaven Retreat LLC acknowledges April as Alcohol Awareness Month, dedicated to educating people about alcoholism and how to break the cycle.
Alcohol Awareness Month has been sponsored annually by the National Council on Alcoholism and Drug Dependence, Inc. (NCADD) since 1987 to increase public awareness and understanding, reduce stigma and encourage local communities to focus on alcoholism and related issues.
This year, NCADD affiliates and schools, churches and community organizations will use the theme "For the Health of It: Early Education on Alcoholism and Addiction" when they sponsor activities to get people of all ages involved, especially young people.
Among the litany of concerns surrounding alcohol, it is considered the number one drug of choice among young people, and is more likely to kill them than all the illegal drugs combined. Andrew Pucher, President and Chief Executive Officer of NCADD says on the official website, "Underage drinking is a complex issue, one that can only be solved through a sustained and cooperative effort. As a nation, we need to wake up to the reality that for some, alcoholism and addiction develop at a young age and that intervention, treatment, and recovery support are essential for them and their families. We can't afford to wait any longer."
According to the National Institute on Alcohol Abuse and Alcoholism (NIAAA), almost one-third of Americans have abused alcohol, and so far, there have been more than 565,724 alcohol-related deaths, a growing number counted by the World Health Organization (WHO) and displayed on the online counter.
In the light of these and other astounding statistics, the NCADD declares the official three-day Alcohol-Free Weekend April 3 to 5. Brookhaven Retreat urges all Americans to participate.
Brookhaven Retreat offers The Lily Program®, a 90-day comprehensive treatment plan for women with emotional and mental health challenges, as well as substance abuse issues.
"At Brookhaven Retreat we believe that addiction and substance abuse are not diseases in themselves, but often symptoms of a larger illness," says Jacqueline Dawes, founder of Brookhaven Retreat. "In order to stop the feelings of emptiness and worthlessness, some women turn to alcohol and other addictive activities to make the pain go away.
"When faced with care and compassion, we can discover and heal these ailments," she adds. "As a co-occurring diagnoses treatment center, our clinical and medical staff can address the addiction and the underlying causes that lead women to feeling empty and alone. We believe that healing comes from loving one's self and therefore provide a loving and non-punitive environment."
About Brookhaven Retreat
Brookhaven Retreat is a women's treatment center nestled on a naturally beautiful 48-acre site secluded in the foothills of the Great Smoky Mountains. It has helped hundreds of women across the United States overcome depression, trauma, anxiety, substance use and a range of other behavioral health challenges. Brookhaven's Founder, Jacqueline Dawes, has predicated its gender-specific treatment on "healing emotional breakage" for women. In this way, she has established a sanctuary and a place where women can feel safe, secure and cared for by a staff of highly trained professionals.