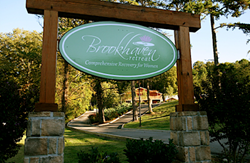 Knoxville, TN (PRWEB) March 20, 2014
The alumnae reunion is approaching quickly! On March 29 Brookhaven Retreat will host its annual alumnae reunion at the Ruby Tuesday Lodge in Maryville, Tennessee. The event will be held all day, 8 a.m.-8 p.m. with breakfast, lunch and dinner provided.
Each year, staff and alumnae get together to celebrate their continued success. A variety of programs led by Brookhaven Retreat staff and special guests will take place throughout the day. Program topics range from self-care demonstrations to open discussions on recovery.
The annual reunion is just one of many programs available to the women who have completed inpatient treatment. Thriving in a residential environment is expected, but Brookhaven Retreat aims to provide women with the life skills they need to overcome their everyday stressors. During the final stage of treatment, each client and a licensed clinical social worker set up an individualized aftercare plan to ensure a smooth transition home.
A supportive and active aftercare program plays an essential role in long-term success. The annual reunion is part of a larger program that also includes a weekly alumnae conference call and an active, private social media website that includes both a book and art club. By having several options for continued support, women who leave Brookhaven Retreat can stay connected with the support system they have built during treatment.
Brookhaven Retreat strives to provide women with long-term skills and support. The annual alumnae reunion gives women the opportunity to refresh skills, reconnect with peers and discuss life after discharge.
About Brookhaven Retreat
Brookhaven Retreat is a women's treatment center nestled on a naturally beautiful 48-acre site secluded in the foothills of the Great Smoky Mountains. It has helped hundreds of women across the United States overcome depression, trauma, anxiety, substance use and a range of other behavioral health challenges. Brookhaven's Founder, Jacqueline Dawes, has predicated its gender-specific treatment on "healing emotional breakage" for women. In this way, she has established a sanctuary and a place where women can feel safe, secure and cared for by a staff of highly trained professionals.