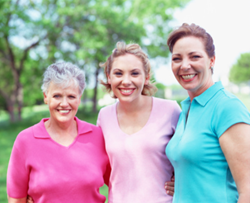 Knoxville, TN (PRWEB) April 08, 2014
On March 29, Brookhaven Retreat staff honored its alumnae on their continued success recovering from mental health and substance abuse issues. The Annual Alumnae Reunion took place at the Ruby Tuesday Lodge in Maryville, Tenn. Women had the opportunity to reunite with staff and fellow graduates in different stages of recovery.
After an 8 a.m. breakfast, the women attended a variety of staff-led programs throughout the day. Therapists and program managers organized groups that embrace a healthy mind, body and spirit to ensure a holistic approach to life and recovery.
From dietitian-guided demonstrations to discussions on healthy families, women were refreshed on coping skills, interpersonal skills, emotional regulation and the importance of self-care to remain healthy and stable.
The reunion is part of a larger, comprehensive aftercare program that provides on-going support for women once they return home. Brookhaven Retreat recognizes that recovery does not end once residential treatment is complete. Women participate in weekly phone calls that refresh the skills learned in treatment. The aftercare online community enables women to maintain connections with other alumnae by allowing them to share pictures, news and healthy living tips.
The evening winded down with a group dinner and a presentation from owner and founder Jacqueline Dawes.
The Annual Alumnae Reunion gives staff and administration an opportunity to stay involved in the lives of each woman who has completed treatment at Brookhaven Retreat. Staff and fellow graduates applaud all the women for their efforts in staying healthy and connected throughout the recovery journey.
About Brookhaven Retreat
Brookhaven Retreat is a women's treatment center nestled on a naturally beautiful 48-acre site secluded in the foothills of the Great Smoky Mountains. It has helped hundreds of women across the United States overcome depression, trauma, anxiety, substance use and a range of other behavioral health challenges. Brookhaven's Founder, Jacqueline Dawes, has predicated its gender-specific treatment on "healing emotional breakage" for women. In this way, she has established a sanctuary and a place where women can feel safe, secure and cared for by a staff of highly trained professionals.