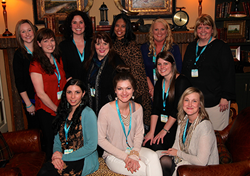 Knoxville, TN (PRWEB) March 25, 2015
"Travel Your Mind, Like You Travel the World" was the theme of Brookhaven Retreat's 2015 alumnae reunion held March 21 at the exclusive RT Lodge in Maryville, TN.
Each year as part of their extensive aftercare program, Brookhaven Retreat reunites alumnae from all over the country to celebrate their ongoing recovery that began in The Lily Program®, a 90-day treatment program for women with emotional and mental health challenges.
This year, guests were greeted with gift bags containing special items selected by Brookhaven Retreat's founder Jacqueline Dawes, who particularly enjoyed the sounds of delight heard among the crowd as old friends spotted each other and staff members barely recognized alumnae because they now look much healthier.
During the day filled with enlightening programs and interactive demonstrations, alumnae were also heard recognizing Brookhaven Retreat as more than a lifestyle game-changer, but rather a life-saver.
A mindful stretching class titled Body & Mind Tuning given by Stephanie Christian, LMT, RYT, Licensed Bodywork Therapist, demonstrated how to be a peaceful warrior.
"I can come full circle to see the women from the beginning up to now. You can see the physical changes in everyone. Women shared that recovery can be very lonely," said Christian, who was enjoying her second reunion. "So being here is like a reaffirming and supportive sisterhood. It grounds me and gives me balance as well."
Attendees wrote things they wanted to let go of on balloons so they could set them free before sitting down for the four-course dinner in the RT Lodge dining room, lit and warmed by the fireplace.
After dinner, Dawes opened her talk by saying, "Don't let the heart that hurt you prevent you from loving the one that will." She emphasized the importance of having the emotional tools to handle various situations in life, similar to packing different types of clothing for different climates while traveling.
Dawes also wished everyone longevity and added that the woman who lived the longest claimed to be unflappable. In conclusion, she called up each of the alumnae to give her congratulations, a lion Pandora charm and a hug. Each one walked up with a smile so bright that it lit up the room.
Earlier in the day, dancers from Charlotte, NC performed Hawaiian and Tahitian dancing styles with live music, and demonstrated them, inviting women to join in the fun. One of the dancers said she had never seen such enthusiastic participation from a crowd before, which also made it more engaging for the performers.
During her third reunion, Donita Berry, BS, Program Counselor & Hula Hooping Instructor gave a presentation called Hula Hooping: Finding Your Flow. She said, "It's so great to see the ladies who are still working the program. When they return each year, they have a chance to reminisce and share stories. It doesn't matter when they attended Brookhaven Retreat, they are one large community connected by shared experiences that create sisterhood bonds for a lifetime."
Darlene Jiles, MSW, LCSW, Clinical Administrator who led a core group discussion titled Letting Go of that Banana about enmeshment and boundaries, said, "Personally, the reunion is a time to renew myself each year. I cherish seeing the women happy and how they continue to progress."
Katherine Meyers, LMSW, Primary Therapist, whose talk was titled Map It Out: Self-Preservation, agreed. "It's rewarding to see how far the clients have come. This is why we are here and to see that The Lily Program® works, lasts and ultimately saves lives."
About Brookhaven Retreat
Brookhaven Retreat is a women's treatment center nestled on a naturally beautiful 48-acre site secluded in the foothills of the Great Smoky Mountains. It has helped hundreds of women across the United States overcome depression, trauma, anxiety, substance use and a range of other behavioral health challenges. Brookhaven's Founder, Jacqueline Dawes, has predicated its gender-specific treatment on "healing emotional breakage" for women. In this way, she has established a sanctuary and a place where women can feel safe, secure and cared for by a staff of highly trained professionals.