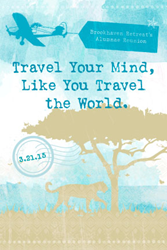 Knoxville, TN (PRWEB) March 19, 2015
"Travel Your Mind, Like You Travel the World" will be the theme of Brookhaven Retreat's 2015 alumnae reunion at the exclusive RT Lodge in Maryville, TN, to be held March 21, 2015.
Each year Brookhaven Retreat welcomes alumnae from all over the country so they may reunite, renew and treasure the life changes they began in treatment, as part of an extensive aftercare program available to all alumnae---a vital component to life after residential treatment.
While Brookhaven Retreat offers a 90-day treatment program to women with emotional and mental health challenges, their dedication to clients is an ongoing acknowledgment that the recovery process is a "walk for life."
"Brookhaven Retreat is a very special place to the alumnae who have grown and redefined themselves during their treatment," says founder Jacqueline Dawes. "What we learn on this journey is that getting well is easy; staying well is harder."
The Aftercare Program is designed to provide lasting support to encourage success and health after a client returns home. Comprehensive pre-discharge planning of the program includes weekly conference calls, recommended reading, an interactive website and discussion forum, and an invitation to the annual reunion.
"Recovery is an ongoing process," says Dawes. "The completion of one's stay at Brookhaven Retreat isn't necessarily the completion of treatment. Our door is always open, and we want our alumnae to always look to us as a continued source of support. We recommend that in addition to continuing therapeutic care on an outpatient basis, that each client participates in each aspect of the Aftercare services, such as the reunion, to inspire more progress."
The reunion will feature group therapy-related topics and sessions to help promote being well and staying well for participants, who will also enjoy demonstrations and lively participation, such as Tahitian dancing, hula hooping and whole food plant-based cooking.
Approximately 65 alumnae will reunite with staff members for the reunion, enjoy fine dining for breakfast, lunch and dinner, as well as healthy juices and tastings. The entire day is designed to encourage continued healing while celebrating another year of successful recovery.
About Brookhaven Retreat
Brookhaven Retreat is a women's treatment center nestled on a naturally beautiful 48-acre site secluded in the foothills of the Great Smoky Mountains. It has helped hundreds of women across the United States overcome depression, trauma, anxiety, substance use and a range of other behavioral health challenges. Brookhaven's Founder, Jacqueline Dawes, has predicated its gender-specific treatment on "healing emotional breakage" for women. In this way, she has established a sanctuary and a place where women can feel safe, secure and cared for by a staff of highly trained professionals.