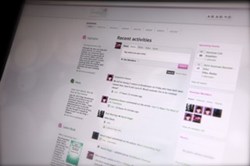 Knoxville, TN (PRWEB) August 01, 2013
In response to alumnae demand and changing technology, Brookhaven Retreat recently renovated its alumnae website. The finished product was unveiled at a staff meeting on July 29.
Brookhaven Retreat recently conducted a survey of its alumnae and found that all were interested in an improved, more user friendly website. Nearly all alumnae use the site as an interactive tool to keep in touch with one another, and all desired a chat feature to communicate in real time about their recovery.
Nearly all survey respondents believed the website contributed to their recovery journey by allowing them to maintain connections with Brookhaven Retreat and fellow alumnae. Many respondents shared a desire to be able to upload photos and share their journey with other alumnae.
The new website will offer a safe place for alumnae to remain in contact following treatment at Brookhaven Retreat. It fulfills alumnae requests for an easier-to-use, more interactive website and offers features such as group discussions, event invitations, profile pages, individual photo albums and many other features one would expect from a social media website.
Brookhaven Retreat will maintain a presence on its alumnae website through weekly news content, book recommendations, recipes and other discussions.
Brookhaven Retreat's strong alumnae community is an integral part of its program because it maintains the supportive bonds that women forge during treatment. Its continuing care program allows women to remain in touch with supportive peers, discuss recovery, plan gatherings and create friendships that encourage an active and healthy lifestyle.
Brookhaven Retreat is dedicated to providing the very best mental health care available and is thrilled to remain connected with its alumnae after discharge. The alumnae website, designed to facilitate healthy living following treatment, is key in enabling Brookhaven Retreat to maintain this contact. Staff will thoroughly test the website in the coming days to ensure everything is well prepared for launch.
About Brookhaven Retreat
Brookhaven Retreat is a women's treatment center nestled on a naturally beautiful 48-acre site secluded in the foothills of the Great Smoky Mountains. It has helped hundreds of women across the United States overcome depression, trauma, anxiety, substance use and a range of other behavioral health challenges. Brookhaven's Founder, Jacqueline Dawes, has predicated its gender-specific treatment on "healing emotional breakage" for women. In this way, she has established a sanctuary and a place where women can feel safe, secure and cared for by a staff of highly trained professionals.