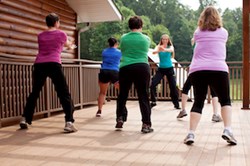 Knoxville, TN (PRWEB) February 18, 2014
February is American Heart Month. Hosted by the Centers for Disease Control and Prevention, this campaign exists to promote awareness about heart disease and the steps to prevent it. Brookhaven Retreat proudly participates in American Heart Month by supporting exercise and a healthy diet and its connection to mental health.
The American Heart Association states that exercising 30 minutes a day reduces heart disease by 30 to 40 percent. This doesn't necessarily mean women have to go out and join a gym or buy a treadmill; women can start the journey to a healthier heart just by adding physical activity back into their daily lives.
Simple changes in a woman's daily routine, such as taking the stairs instead of the elevator, can increase a woman's heart rate and lower her bad cholesterol levels while raising her good cholesterol levels. Taking the stairs can also relieve tension and stress, which can take a toll on a woman's mental health.
Dancing is a hobby that can benefit women not only physically, but also mentally and socially. The American Council on Exercise recommends dancing for an aerobic workout, pointing out that it can lower the risk of heart disease, decrease blood pressure, and also aid in weight management. The ACE also states, "Many individuals find that it helps to reduce stress and chronic fatigue, improve energy and mood, and increase self-esteem and confidence."
Nutrition is another important factor to maintaining a healthy heart. According to the AHA, eating foods that are high in minerals, fiber, and omega-3 fatty acids, may help lower the risk of heart disease. Cooking is also a great hobby for women. It stimulates the senses and allows women to be creative and focused.
Becoming heart-healthy is as easy as making small changes to a woman's daily life. This journey benefits women not only physically but also emotionally by supporting mental wellness.
About Brookhaven Retreat
Brookhaven Retreat is a women's treatment center nestled on a naturally beautiful 48-acre site secluded in the foothills of the Great Smoky Mountains. It has helped hundreds of women across the United States overcome depression, trauma, anxiety, substance use and a range of other behavioral health challenges. Brookhaven's Founder, Jacqueline Dawes, has predicated its gender-specific treatment on "healing emotional breakage" for women. In this way, she has established a sanctuary and a place where women can feel safe, secure and cared for by a staff of highly trained professionals.