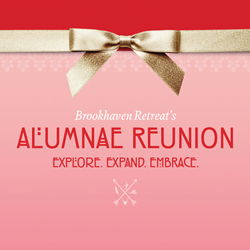 Knoxville, TN (PRWEB) February 17, 2016
Brookhaven Retreat ® LLC, a unique residential treatment facility exclusively for women with mental health and/or substance abuse issues, will host the annual Alumnae Reunion at RT Lodge in Maryville, TN on Saturday, March 26, 2016.
Each year Brookhaven Retreat welcomes alumnae from all over the country so they may reunite, renew and treasure the life changes they began in treatment, as part of an extensive aftercare program available to all alumnae---a vital component to life after residential treatment.
The event will welcome alumnae of The Lily Program ®, a 90-day program for women offered exclusively at Brookhaven Retreat, from all over the country to the event with the theme, "Explore. Expand. Embrace."
Although the treatment program lasts for 90 days, Brookhaven Retreat's ongoing dedication to clients stems from the awareness that the recovery process is a "walk for life." As part of the ongoing process of the extensive Aftercare program available to all alumnae, all who attend will have the opportunity to reunite, renew and treasure the life changes they began in treatment.
Brookhaven Retreat's founder Jacqueline Dawes, says, "The alumnae reunion is a time to explore and celebrate the achievements of some very strong women who continue to work on their strength and expand on what they have learned. By connecting with other women who are a bit deeper into the process, and have had perhaps a year or two or three more to embrace their new skills and live with new awareness gained in the program, they can learn even more from relating to each other. Mental wellness is an ongoing process that requires maintenance."
The Aftercare Program is designed to provide lasting support to encourage success and health after a client returns home. Comprehensive pre-discharge planning of the program includes weekly conference calls, recommended reading, an interactive website and discussion forum, and an invitation to the annual reunion.
"The process of recovery can be a moving target," says Dawes. "And sometimes we go forward and then relapse a bit or lose our way and then find it again. The Aftercare Program is in place as a guiding light to ensure women remain on track and have the necessary help available when the need arises. We have an open door policy with clients. The reunion is a way to continue to inspire them and be of service."
About Brookhaven Retreat
Brookhaven Retreat is a women's treatment center nestled on a naturally beautiful 48-acre site secluded in the foothills of the Great Smoky Mountains. It has helped hundreds of women across the United States overcome depression, trauma, anxiety, substance use and a range of other behavioral health challenges. Brookhaven's Founder, Jacqueline Dawes, has predicated its gender-specific treatment on "healing emotional breakage" for women. In this way, she has established a sanctuary and a place where women can feel safe, secure and cared for by a staff of highly trained professionals.