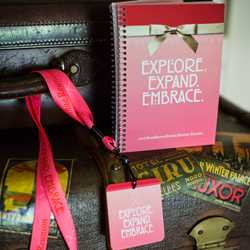 Knoxville, TN (PRWEB) March 31, 2016
Brookhaven Retreat ® LLC, a unique residential treatment facility exclusively for women with mental health and/or substance abuse issues, celebrated the accomplishments of alumnae in recovery at the annual Alumnae Reunion at RT Lodge in Maryville, TN on Saturday, March 26, 2016.
With the additional satisfaction of having the annual reunion on the eve of their 10th anniversary, Brookhaven Retreat rejoiced in the successful recovery of women who traveled from all over the country to engage in the theme, "Explore. Expand. Embrace."
At the start of the day-long event, guests and staff members greeted each other, in some cases for the very first time, while receiving their name badges and handcrafted gift bags. Whether they met during their 90 days of treatment in The Lily Program ®, offered exclusively at Brookhaven Retreat, an immediate bond was present.
After breakfast was served and throughout the day, each guest contributed her own piece of original artwork on canvas to the six-panel mural of Brookhaven Retreat designed to give future alumnae hope and motivation to move forward. The goal is to give each new client hope. The mural will serve as a legacy created by alumnae, who successfully completed the program. In other words, if I did it, so can you.
Pam, an alumnae who has attended several reunions since treatment, recalls, "Coming to the reunion for the first time five years ago, I was amazed by those who had been successful (in their recovery), and I wondered how they did that. But this is my fourth reunion and I'm doing OK, too."
Program Counselor Lori Reno, said, "Reunion time is precious to me. It's a big part of the experience for me to see the women down the road on their journey after months of intense work. As a PC, I get to see the changes they've made and how they have maintained their changes."
"Ground Down," a body and mind tuning exercise, set the tone for the experiential group activities held throughout the day for the purpose of sharpening tools learned during treatment. The group explored feelings and attitudes about healthy relationships in the programs, "It Takes Two" led by Primary Therapist Julia Wilson, MS, MFT. Primary therapists, Sharon Moore, MMFT and Deby Torbett, MS, led a discussion on the topic of self-love in the program titled "Who Are You?" while alumnae created montages on boxes that reflect their individuality.
"Eat Live & Live," a talk and taste-testing of fermented foods, gave guests a reason to explore and expand by trying something new with Charity Coyle, RD Brookhaven Retreat's on-staff Registered Dietician and Stephanie Christian, LMT, CYT Licensed Bodywork Therapist.
In the spirit of fitness and entertainment, "Celtic Rhythms on Fire" opened with bag pipes and a team of Irish step dancers from Nashville, who performed and taught guests a line dance.
The expansive afternoon began with lunch and "Wrap, Wrap, Wrap," both a lesson in mindfulness and a gift-giving opportunity, where guests wrapped gifts for loved ones. The room was also full of balloons with ribbons attached to provide a place to make note of an aspect of life to release. After the group, the balloons were released outside as a symbol of letting go.
"Trap Free" was a ropes course facilitated by Primary Therapist Lana Wilcox, LCP/MHSP, designed to encourage the expansion of trusting ourselves and others.
Fresh juices were served and other programs were offered, including a cooking session, "Eat Easy," led by Primary Therapist Holly Moore, LMSW.
According to Deb Tracy, Program Manager, the reunion is a treat not just for clients, but for staff members as well. "The reunion gives me the encouragement of seeing the results of our labor," she said. "It's very touching and I appreciate everything that goes into the preparation of the reunion."
After a break and a fun make-over session, a four-course dinner was served and a ceremony presented each alumna with a double heart Pandora charm to symbolize the act of embracing your own heart.
Brookhaven Retreat's founder Jacqueline Dawes, spoke about the process of recovery, which relies heavily on preparedness. "Your own attitude about 'self' is everything," she said. "Keep moving and be progressive. Surround yourself with inspired and grateful people while embracing those things that define what you need to do for yourself. The saying goes, 'charity begins at home,' and home is you. Expand by being more forgiving, which is a quality of strength, and explore new levels of that strength. Know that your most important possession is yourself. Also know that what defines you is your decisions and choices. Every day is a new opportunity to choose what you want to become."
Dawes is also famous for saying, "Getting well is hard, but staying well is harder." The Aftercare Program, which includes the reunion, is in place to help women stay well.
Returning to Brookhaven Retreat, a symbol of recovery and strength is a way to remain connected to what many consider a "home away from home." An alumna thanked Dawes for providing all alumnae the opportunity to "come home every year."
Before departing, women were given a velvet bag containing sparklers and a tag that said, "Embrace Yourself. Love Sparklers." The sparklers were used to light up the night to symbolize the light within and their power to keep it burning bright through potentially darker times.
Alumnae and staff members alike, claim the program has proven successful for many women. Wilcox said, "It's such a joy to see former clients again and know how they've succeeded. It reinforces that the program really works. People are able to change their lives because of this program."
"The reunion is one of my favorite aspects of working at Brookhaven Retreat," says Wilson. "It's the only place I have the opportunity to reconnect with so many inspirational women, both former clients and co-workers."
Jessica King, alumnae coordinator said, "The best part of seeing these women is to learn they are still committed to the program. It makes it all worthwhile. Jacqueline Dawes has a vision and creates a theme for the reunion that is unique and beautiful. She really cares about each client's success. She speaks from the heart, which makes the experience rewarding. She is the most passionate person I know. Everything she does is big and comes from the heart."
About Brookhaven Retreat
Brookhaven Retreat is a women's treatment center nestled on a naturally beautiful 48-acre site secluded in the foothills of the Great Smoky Mountains. It has helped hundreds of women across the United States overcome depression, trauma, anxiety, substance use and a range of other behavioral health challenges. Brookhaven's Founder, Jacqueline Dawes, has predicated its gender-specific treatment on "healing emotional breakage" for women. In this way, she has established a sanctuary and a place where women can feel safe, secure and cared for by a staff of highly trained professionals.