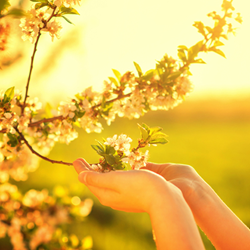 Knoxville, TN (PRWEB) July 14, 2015
Brookhaven Retreat offers a unique voluntary residential program of mental health and substance abuse services designed to help women overcome depression, trauma, anxiety, personality disorders, and substance dependence among other diagnoses. One of the modalities that promotes healing for clients in recovery is Anthetic Therapy, which originated in 1964 by the late Dr. James Elliot, Ph.D of psychology. Dr. Kathryn Elliot, Ph.D of counseling psychology, is the director of Anthetic Therapy Center in Lafayette, LA, where counseling is available for couples and individuals, and mental health professionals can go for training.
The word 'anthetic' comes from the Greek anthein, referring to the growth and blossoming of a flower as Anthetic Therapy (AT) focuses on the growth, unfolding and full development of an individual within the gentle, nonjudgmental surroundings of the therapy session.
Dr. Elliot says, "This is the first therapy that holds the value of radical inner freedom; that is, complete freedom from believing or buying into ANY Inner Critic message. Moreover, there are implications for the practice of this approach. To transmit radical inner freedom to a suffering person, the clinician must herself hold the value of radical inner freedom and must practice the skills in his or her own daily life. Further, radical inner freedom includes not only freedom from the Inner Critic, but also from any element in the mind or in the person's life, with particular attention to inner figures (such as, the Hurt Child and the Vengeful Teen). Once having learned the skills taught in Anthetic Therapy for achieving inner freedom, the person finds that energies for living life in a fulfilling, even ecstatic way are liberated. Peace, creativity and love flow and are free to be expressed in the individual's unique way."
Founder of Brookhaven Retreat, Jacqueline Dawes, has incorporated Anthetic Therapy into The Lily Program®, a 90-day program for women offered exclusively at Brookhaven Retreat.
In April, Brookhaven Retreat hosted a workshop, "Inner Critic Work and Practice" by Dr. Elliot, in Asheville, NC to provide their staff members with guidance about how Anthetic Therapy can help prevent relapse following treatment for mental health, emotional and substance abuse challenges.
"Anthetic Therapy," says Dawes, "speaks to the source of the emotional pain from sexual abuse, emotional abuse and all sorts of mental anguish that induces shame and other obstacles for living a productive, happy life. Anthetic Therapy grants us access to the internal voice sending negative messages that damage self-worth and create self-sabotage. By challenging the negative internal voice, the goal is to become free from judgment."
About Brookhaven Retreat
Brookhaven Retreat is a women's treatment center nestled on a naturally beautiful 48-acre site secluded in the foothills of the Great Smoky Mountains. It has helped hundreds of women across the United States overcome depression, trauma, anxiety, substance use and a range of other behavioral health challenges. Brookhaven's Founder, Jacqueline Dawes, has predicated its gender-specific treatment on "healing emotional breakage" for women. In this way, she has established a sanctuary and a place where women can feel safe, secure and cared for by a staff of highly trained professionals.