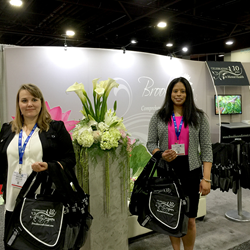 Knoxville, TN (PRWEB) May 25, 2016
Brookhaven Retreat ® LLC, a unique residential treatment facility exclusively for women with mental health and/or substance abuse issues, exhibited at the psychiatry event of the year, the 2016 annual meeting of the American Psychiatric Association at the Georgia World Congress Center in Atlanta, GA from May 15 to 17.
Brookhaven Retreat offers a unique voluntary residential program of mental health and substance abuse services designed to help women overcome depression, trauma, anxiety, personality disorders, and substance dependence among other diagnoses.
In honor of Brookhaven Retreat's 10-year anniversary a freshly 20 x 10 booth was designed featuring lotus flowers. The booth also included tall floral arrangements made with Calla Lilies, Casablanca Lilies, Hydrangeas and Sweet Peas to convey the beauty of Brookhaven Retreat. Lilies were chosen in particular to represent The Lily Program®, a 90-day individualized mental health treatment program offered exclusively at the Tennessee-based treatment center.
A three-minute video about Brookhaven Retreat (watchable now on Facebook) was also displayed. One thousand branded tote bags that said "Celebrating 10 years" were branded with the Lily Program logo and handed out to attendees. The bags' contents included a notepad and the newly designed brochure.
Primary Therapists Marlaina Kincaid, MS and Lana Wilcox, LPC/MHSP of Brookhaven Retreat exhibited and answered questions about their services and program.
More than 13,000 attendees from around the globe, including physicians from psychiatric and other mental health disciplines gathered at the Georgia World Congress Center, the first state-owned convention center established in the United States, and now the third largest convention center in the country. Atlanta is home of the World of Coca-Cola, Georgia Aquarium-the largest aquarium in the Western Hemisphere, Martin Luther King, Jr. Historic Sites, Center for Civil and Human Rights, CNN Center, and the College Football Hall of Fame.
Originally established in 1844, the meeting has remained the premier gathering in psychiatry today and serves as a symbol of the Association's commitment to improved patient care through professional education. Hundreds of educational sessions and presentations on the latest research were featured.
Attendees gained insight and in-depth knowledge designed to help improve patient care by meeting with renowned experts, earning credits, building peer relationships, discovering ground-breaking technology and new therapies and treatment options.
Kincaid and Wilcox said, "It was a pleasure meeting previous, current, and future referral sources. It was also beneficial to gain an understanding of the technology available. We were proud to represent such a phenomenal facility and be recognized nationally and internationally by other facilities and colleagues alike."
About Brookhaven Retreat
Brookhaven Retreat is a women's treatment center nestled on a naturally beautiful 48-acre site secluded in the foothills of the Great Smoky Mountains. It has helped hundreds of women across the United States overcome depression, trauma, anxiety, substance use and a range of other behavioral health challenges. Brookhaven's Founder, Jacqueline Dawes, has predicated its gender-specific treatment on "healing emotional breakage" for women. In this way, she has established a sanctuary and a place where women can feel safe, secure and cared for by a staff of highly trained professionals.