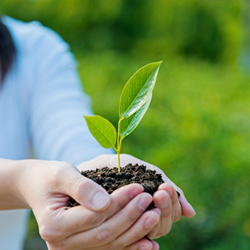 Knoxville, TN (PRWEB) April 28, 2016
Brookhaven Retreat® LLC, a unique residential treatment facility exclusively for women with mental health and/or substance abuse issues, informed clients of the mental health benefits of planting trees and gardening on Arbor Day, April 24. They also planted a new tree on the property, which is 48 secluded acres in the foothills of the Smoky Mountains, in honor of the special day.
The first formal celebration of Arbor Day was held in 1872, in Nebraska, even though tree planting festivals had been going on since civilization. The founder of Arbor Day, Julius Sterling Morton, a journalist from Detroit, was a nature-lover who saw a need and filled it. When Morton became the editor of Nebraska's first newspaper, he shared information about agriculture and his love of trees. He made a resolution to the State Board of Agriculture "to set aside one day to plant trees, both forest and fruit," which was accepted in 1872.
Trees have always been considered the symbol of life. In fact, the therapeutic benefits of garden environments have been documented since ancient times. In the 19th century, Dr. Benjamin Rush, a signer of the Declaration of Independence and recognized as the "Father of American Psychiatry," was first to document the positive effect working in the garden had on individuals with mental illness.
Brookhaven Retreat offers a unique voluntary residential program of mental health and substance abuse services designed to help women overcome depression, trauma, anxiety, personality disorders, and substance dependence among other diagnoses. Therapy comes in many forms on the serene grounds in Seymour, TN, which is one of many reasons clients choose Brookhaven Retreat. Horticultural therapy (HT), for instance, is a time-proven practice utilizing gardening activities to promote mindfulness and stress release.
According to the American Horticultural Therapy Association, Gregory Bratman, winner of the 2015 Charles Lewis Excellence in Research Award for The Benefits of Nature Experience: Improved Affect and Cognition, compared people who walked for 50 minutes in an urban setting with others who walked the same amount of time in a natural setting. It's no surprise that the nature-walkers had less anxiety and less rumination than the others.
"Potential clients are often pleasantly surprised about how gardening agrees with them and helps them slow down, focus, and become more mindful long after the gardening therapy session is over," says owner and founder, Jacqueline Dawes. "Some clients know what to expect from it, but for those who have never dug their hands into the soil and actually planted seeds, trees or plants and had the privilege of watching them grow, they find out quickly how rewarding and therapeutic it is."
About Brookhaven Retreat
Brookhaven Retreat is a women's treatment center nestled on a naturally beautiful 48-acre site secluded in the foothills of the Great Smoky Mountains. It has helped hundreds of women across the United States overcome depression, trauma, anxiety, substance use and a range of other behavioral health challenges. Brookhaven's Founder, Jacqueline Dawes, has predicated its gender-specific treatment on "healing emotional breakage" for women. In this way, she has established a sanctuary and a place where women can feel safe, secure and cared for by a staff of highly trained professionals.