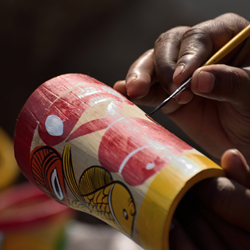 Knoxville, TN (PRWEB) August 13, 2015
Brookhaven Retreat® LLC, a unique residential treatment facility exclusively for women with emotional and mental health challenges, and/or substance abuse issues recently treated clients to a therapeutic outing to the Eighth of August Jubilee at Chilhowee Park in Knoxville, TN.
Sponsored by the Beck Cultural Exchange Center, the event celebrates the 40th anniversary of the inaugural event that marks a pivotal moment in American history. Chilhowee Park was only open to African Americans one day a year, every August 8. Clients enjoyed a full day of festivities designed to commemorate the day, such as various types of entertainment, dancing, musical performances, activities for all ages, including an Oral History Trolley.
On August 8, 1863, Tennessee Military Governor, Andrew Johnson, freed his personal slaves. In April 2007, Tennessee Governor Phil Bredesen signed the House Bill and August 8 became known as "Emancipation Day" throughout the region. Annual celebrations like the Eighth of August Jubilee date back to as early as 1871 in Greenville, Tennessee.
As part of The Lily Program®, a 90-day program for women offered exclusively at Brookhaven Retreat, clients embark on diverse therapeutic trips as an opportunity for education, recreation and intellectual stimulation outside the Seymour Tennessee-based facility. Other recent therapeutic recreational outings have included visits to the University of Tennessee Botanical Gardens, the Mabry-Hazen House Museum, and the McClung Museum.
Brookhaven Retreat's founder Jacqueline Dawes cites the importance of being in touch with history and the outside world during treatment. "Clients need to get out and have experiences that take them outside themselves," she says. "Learning about the rich history of Tennessee is sort of an extra for women who may have never been here before. But more than just being interesting, celebrations such as this offer a new perspective and remind us that we all have issues. We are here to help women navigate through their emotional difficulties and teach them skills to help them throughout their lives, beyond their brief yet productive stay with us."
Upon completion of the 90-day program, the Aftercare program offers ongoing support long after a client has been discharged.
About Brookhaven Retreat
Brookhaven Retreat is a women's treatment center nestled on a naturally beautiful 48-acre site secluded in the foothills of the Great Smoky Mountains. It has helped hundreds of women across the United States overcome depression, trauma, anxiety, substance use and a range of other behavioral health challenges. Brookhaven's Founder, Jacqueline Dawes, has predicated its gender-specific treatment on "healing emotional breakage" for women. In this way, she has established a sanctuary and a place where women can feel safe, secure and cared for by a staff of highly trained professionals.