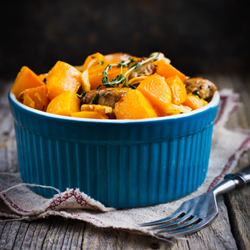 Knoxville, TN (PRWEB) November 17, 2015
In an effort to offer the best nutrition possible to clients of Brookhaven Retreat, the new Autumn/Winter Menu has been introduced in November, before it rotates again for the new season, after six weeks.
Charity Coyle, the Registered Dietician at Brookhaven Retreat, nutrition during the detoxification process for substance abuse addiction and alcoholism, is a vital part of treatment. "Every single client can benefit from the individual nutrition counseling we offer as part of the program," she says. "No matter what you're attempting to heal or learn to manage better-whether it's from alcohol addiction or bipolar to bereavement or chronic anxiety, eating well is important. If your car had engine trouble, you wouldn't add sugar to the gas tank and expect it to run properly. The body is a machine that relies on every part to function as part of the whole."
Coyle works with each individual woman on any dietary needs including vegetarian, vegan, kosher and gluten-free. Educational demonstrations such as juicing and healthy snack recipes are offered in the afternoons. Foods provide our body and mind with the necessary nutrition to keep us in balance.
Jacqueline Dawes, founder of Brookhaven Retreat, says, "When we feel broken and utterly and completely distracted by whatever we're going through, sometimes we don't care about food. It's the interference of anxiety, depression and even mania that can make nutrition seem unimportant. Others tend to practice emotional eating and mindless eating, both of which are enemies to the healing process as well. But as a client re-learns self-love, they begin to understand the importance again. We are here to be supportive and that is one of many ways we help clients recreate their lives. Sometimes we need to be reeducated about how, what and when to eat."
According to an article published by Today's Dietician, "Proper nutrition and hydration are key to the substance abuse healing process because they help restore physical and mental health and improve the chance of recovery. Macro- and micronutrient deficiencies can lead to symptoms of depression, anxiety, and low energy, all of which can lead someone to start using drugs or alcohol or trigger a relapse. Substance abuse generally leads to a lack of proper nutrition, either as a result of not eating enough throughout the day or eating foods that are low in necessary nutrients."
The menu at Brookhaven Retreat is comprised of fresh, delicious meals prepared by on-staff chefs and locally grown food whenever possible. Some of the featured items on the new menu include:

Gingerbread Pancakes with Spiced Apple Cider Syrup
Cranberry Orange Roasted Chicken with Mint and Walnut Pesto
Roasted Grape & Rosemary Crostini with Creamy Burrata
Autumn Greens with Tarragon Vinaigrette
Roasted Butternut Squash Salad
About Brookhaven Retreat
Brookhaven Retreat is a women's treatment center nestled on a naturally beautiful 48-acre site secluded in the foothills of the Great Smoky Mountains. It has helped hundreds of women across the United States overcome depression, trauma, anxiety, substance use and a range of other behavioral health challenges. Brookhaven's Founder, Jacqueline Dawes, has predicated its gender-specific treatment on "healing emotional breakage" for women. In this way, she has established a sanctuary and a place where women can feel safe, secure and cared for by a staff of highly trained professionals.