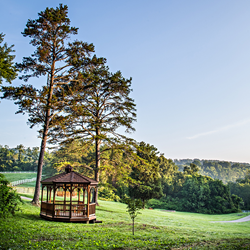 Knoxville, TN (PRWEB) July 19, 2016
Brookhaven Retreat®, LLC, a unique residential treatment facility exclusively for women with mental health and/or substance abuse issues, observed Bereaved Parents Awareness Month on July 6th with a Walk to Remember.
A loss of a child is one of the most challenging experiences that a parent can have. Often times, family members and friends are unsure of the best ways to support a parent who has lost a child. To help raise awareness, support, and education, July is designated at Bereaved Parents Awareness Month.
Brookhaven Retreat's clients and staff participated in a Walk to Remember on July 6th as a symbolic and active way for bereaved parents to express their love for their lost child. The mindful walk on the beautifully manicured grounds provided a positive space and atmosphere for bereaved parents to grieve and to begin to heal.
Jacqueline Dawes, founder of Brookhaven Retreat, experienced the loss of her own daughter and from her recovery built the healing foundation of Brookhaven Retreat. Dawes stated "losing a child changes everything about your life forever." She continued, "It changes how you think, how you feel, how you interface in all other relationships. You are never over it, but slowly you find new ways to live with the loss and come to deeply appreciate there is nothing as valuable as life itself. The power to breathe is priceless."
Brookhaven Retreat is a pristine model to the good that can come from pain and strength that can come from being broken. Dawes stated "I know what the women that come to Brookhaven Retreat are going through, and I know the road to emotional, spiritual, and physical recovery is possible. I am living proof, and if I can do it, other's can too."
As part of The Lily Program®, a 90-day treatment for women offered exclusively at Brookhaven Retreat, clients are offered numerous program components from individual therapy, core processing groups, family therapy, equine assisted therapy, art therapy, and low-elements ropes courses that teach skills for bereaving parents.
About Brookhaven Retreat
Brookhaven Retreat is a women's treatment center nestled on a naturally beautiful 48-acre site secluded in the foothills of the Great Smoky Mountains. It has helped hundreds of women across the United States overcome depression, trauma, anxiety, substance use and a range of other behavioral health challenges. Brookhaven's Founder, Jacqueline Dawes, has predicated its gender-specific treatment on "healing emotional breakage" for women. In this way, she has established a sanctuary and a place where women can feel safe, secure and cared for by a staff of highly trained professionals.