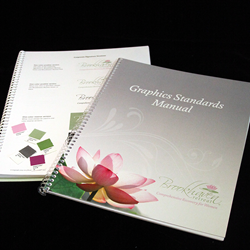 Knoxville, TN (PRWEB) February 09, 2016
Brookhaven Retreat ® LLC held a Branding Training session for new employees at Brookhaven Retreat on February 3, 2016. The training was conducted by Mitzi Navarra, Creative Consultant for Brookhaven Retreat, in an effort to protect and correctly advertise the company as an upscale comprehensive recovery center exclusively for women.
Questions are raised about what the company stands for each time a potential client is exposed to advertising, the website, press releases, or any matter related to Brookhaven Retreat. Branding is how a company puts its best foot forward and serves as the most effective way for a business to show how it is being managed. The session provided an update on procedure and protocol as it pertains to branding elements such as the logo, color palette, language and typeface.
Sending the right messages is crucial to the perception of Brookhaven Retreat, as well as any business. "It's important to control the identity of Brookhaven Retreat consistently in order to send the right messages to the public," says Navarra. "By advertising, using promotional literature, the website, blogs and in other ways the public makes contact with Brookhaven Retreat, the message is clear as to who we are and what we're about. A good first impression is crucial to a potential client, who wants to know that we have the ability to deliver consistent care."
Staff members are responsible for the consistent use of all chosen branding elements. Therefore, training serves as a reminder of the importance of using these elements, as well as a guide about how to properly use them.
"We are on a mission to communicate our purpose and carry it out with a commitment to excellence," Dawes added. "We have a strong identity system that each staff member needs to be mindful of and this training is how we accomplish that. We want the public to know that we are here to serve them with the ultimate goal of making the world a happier, more peaceful place."
About Brookhaven Retreat
Brookhaven Retreat is a women's treatment center nestled on a naturally beautiful 48-acre site secluded in the foothills of the Great Smoky Mountains. It has helped hundreds of women across the United States overcome depression, trauma, anxiety, substance use and a range of other behavioral health challenges. Brookhaven's Founder, Jacqueline Dawes, has predicated its gender-specific treatment on "healing emotional breakage" for women. In this way, she has established a sanctuary and a place where women can feel safe, secure and cared for by a staff of highly trained professionals.