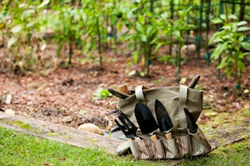 Knoxville, TN (PRWEB) May 27, 2014
With sunshine, light rain, and gentle care, Brookhaven Retreat is grooming its garden for the 2014 summer growing season. The on-site communal garden promotes recovery in women with mental health disorders.
The garden consists of a variety of decorative flowers including peonies and roses, as well as a wide range of tomatoes, beans, peppers, berries and herbs that will eventually be used as fresh ingredients in the kitchen. Each garden is tended to and nurtured by the clients. Clients offer suggestions on the layout and design of the gardens, as well as which plants are grown.
As part of Brookhaven Retreat's experiential therapy, gardening is a healing activity for women who struggle with anxiety, depression and mood disorders. Research has shown that focusing the mind on one activity increases creativity and mindfulness while decreasing anxiety. Working in the garden relieves stress by minimizing the stress hormone cortisol.
A clinical study reported those who frequently tended to a garden showed reduced symptoms of depression. It is believed that the bacteria Mycobacterium vaccae, found in dirt, triggers the arousal of serotonin production in the brain.
Brookhaven Retreat encourages women to pursue hobbies that promote a healthy lifestyle, and are easily transferrable to life after discharge. True reward comes from tending to a growing garden. A sense of achievement, decision-making, responsibility and relaxation that the garden provides facilitates women in their recovery.
About Brookhaven Retreat
Brookhaven Retreat is a women's treatment center nestled on a naturally beautiful 48-acre site secluded in the foothills of the Great Smoky Mountains. It has helped hundreds of women across the United States overcome depression, trauma, anxiety, substance use and a range of other behavioral health challenges. Brookhaven's Founder, Jacqueline Dawes, has predicated its gender-specific treatment on "healing emotional breakage" for women. In this way, she has established a sanctuary and a place where women can feel safe, secure and cared for by a staff of highly trained professionals.