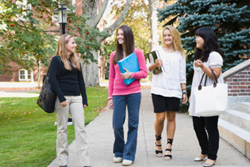 Knoxville, TN (PRWEB) September 04, 2014
With the start of September comes the beginning of a new school year for universities and colleges across the nation. This is an exciting time for many young adults, as it brings more freedom and new experiences.
Unfortunately, college campuses are not immune to violent crimes and traumatic events that leave lasting damage to a woman's emotional and mental health. This September, Brookhaven Retreat observes National Campus Safety Awareness Month by helping women heal from emotional scars.
Women are particularly vulnerable to campus crime. According to a report by the Department of Justice, nearly 1 in 5 females has been the victim of sexual assault while at college and roughly 13 percent of college females report being stalked.
The mental and emotional distress that survivors of stalking and sexual assault endure can last a lifetime if left untreated. Almost one-third of sexual assault survivors and one-third of stalking victims develop post-traumatic stress disorder (PTSD) or other mental illnesses afterward. Unfortunately many of these young women never seek help and the anxiety, depression and loss of self become debilitating.
Brookhaven Retreat is committed to providing a healing refuge for women who have been victims of traumatic experiences both on and off college campuses. Individual treatment sessions are led by highly skilled primary therapists and incorporate effective PTSD treatment such as Eye Movement Desensitization and Reprocessing (EMDR) and Cognitive Behavioral Therapy (CBT). Group therapy and experiential therapy promote healing through action, trust and support.
College gives many young women the chance to pursue their dreams, make new friends, and build self-confidence. For some however, this experience is marked by trauma, anxiety and distress. During the month of September, Brookhaven Retreat urges young women who are struggling from PTSD, anxiety or depression seek help, repair emotional breakage and rebuild their lives.
About Brookhaven Retreat
Brookhaven Retreat is a women's treatment center nestled on a naturally beautiful 48-acre site secluded in the foothills of the Great Smoky Mountains. It has helped hundreds of women across the United States overcome depression, trauma, anxiety, substance use and a range of other behavioral health challenges. Brookhaven's Founder, Jacqueline Dawes, has predicated its gender-specific treatment on "healing emotional breakage" for women. In this way, she has established a sanctuary and a place where women can feel safe, secure and cared for by a staff of highly trained professionals.