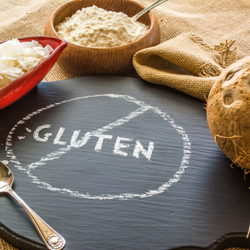 Knoxville, TN (PRWEB) September 17, 2015
Brookhaven Retreat ® LLC observed National Celiac Awareness Day Sept. 13.
Although gluten-free meals are prepared daily for clients who require them, a special gluten-free meal was served to all clients on Sept. 13 to bring awareness to Celiac disease (CD) and the many people who suffer with it.
According to the Celiac Support Association (CSA), Omaha, NE, CD is the most common genetic autoimmune disease in the world. Their website, which includes useful information on the subject, says, "Also known as celiac sprue or gluten-sensitive enteropathy, CD is a genetically linked autoimmune disorder that affects children and adults."
Gluten is a collective term for the amino acids found in wheat, barley, rye, and sometimes oats that can trigger the immune response.
"When people with celiac disease eat certain grain-based products that contain gluten, it sets off an immune response that causes damage to the small intestine," the website also says. "This, in turn, interferes with the small intestine's ability to absorb nutrients found in food, leading to malnutrition and a variety of other complications."
The date of Sept. 13 was chosen not only to bring awareness to CD, but to simultaneously honor the birthday of Dr. Samuel Gee, a British physician and pediatrician, who published the first modern literature about the disease. He was also the first to identify the link between the disease and food.
"If the patient can be cured at all, it must be by means of diet," he said.
Clients of Brookhaven Retreat are served nutritious meals according to their specific needs counseled by Charity Coyle, Registered Dietician. Coyle is well-versed in the importance of avoiding gluten for clients with celiac disease, as well as overall nutrition. She is grateful for the efforts made by the food industry, which bring awareness and show support.
"It's not like it used to be," says Coyle. "Now, there are many different products on the shelves of just about every large food store, like packaged gluten free-bread, muffins and desserts. But there are also creative ways to avoid it, such as using almond meal for breading chicken or even vegetables. Alternative flours, like gluten-free mixes and coconut flour and baking mixes for brownies and even cakes are readily available. A CD diet is much easier to manage than ever before."
About Brookhaven Retreat
Brookhaven Retreat is a women's treatment center nestled on a naturally beautiful 48-acre site secluded in the foothills of the Great Smoky Mountains. It has helped hundreds of women across the United States overcome depression, trauma, anxiety, substance use and a range of other behavioral health challenges. Brookhaven's Founder, Jacqueline Dawes, has predicated its gender-specific treatment on "healing emotional breakage" for women. In this way, she has established a sanctuary and a place where women can feel safe, secure and cared for by a staff of highly trained professionals.