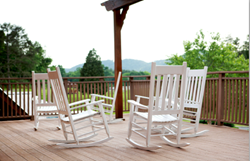 Knoxville, TN (PRWEB) May 29, 2014
On May 23, Brookhaven Retreat continued its series of clinical trainings with a full day of lectures and discussions at the Hilton Hotel in Downtown Knoxville, Tenn.
Attended by the nursing team, psychiatrist, primary therapists, program counselors, clinical director and Brookhaven Retreat's founder, Jacqueline Dawes, this training provided the opportunity to thoroughly review clinical policies and procedures.
Led by Dr. Jennifer Payne, the training kicked off with breakfast and a review of important changes on mood disorder classifications in the new Diagnostic Statistical Manual. Brookhaven Retreat helps women struggling with mood disorders on a daily basis, so fully understanding the complexities and changes to this diagnosis is crucial to providing the highest level of care.
The training continued on to discuss medications, common and uncommon side effects and the best way to monitor medication management. Medication management is an art form, and there is no such thing as a magic pill. Understanding the side effects and incubation period of medications allows the clinical team to educate the client on what to expect to ensure the best long-term medication management plan.
The day winded down with demonstrations and discussions led by Dr. Payne and consultant Scott Migdole. These dealt with the importance of continuity and refinement throughout the clinical process, from the psychiatric interview upon admission to the client's discharge.
Learning takes place over time, and this series of trainings allow Brookhaven Retreat to continue to progress and function at the highest level of care. Not only does the clinical staff learn about new diagnoses, medications and procedures, they also get the chance to openly discuss new policies and how to best incorporate these changes into everyday treatment.
Mood disorders are continually evolving and require a high level of care. In order to help women heal from these disorders, co-occurring substance abuse and emotional breakage, all Brookhaven Retreat staff is thoroughly trained on the most up-to-date information. With the correct diagnosis, medications, skills and consistent care, women can better manage their disorder and reclaim a life worth living.
About Brookhaven Retreat
Brookhaven Retreat is a women's treatment center nestled on a naturally beautiful 48-acre site secluded in the foothills of the Great Smoky Mountains. It has helped hundreds of women across the United States overcome depression, trauma, anxiety, substance use and a range of other behavioral health challenges. Brookhaven's Founder, Jacqueline Dawes, has predicated its gender-specific treatment on "healing emotional breakage" for women. In this way, she has established a sanctuary and a place where women can feel safe, secure and cared for by a staff of highly trained professionals.