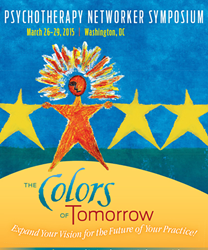 Knoxville, TN (PRWEB) March 04, 2015
Brookhaven Retreat is delighted that two of our primary therapists, Lana Wilson and Marlaina Kincaid, are scheduled to attend the The Colors of Tomorrow Psychotherapy conference held in Washington DC from March 26th through 29th, 2015.
Over 3,200 therapists have already signed up for this year's Psychotherapy Networker Symposium, The Colors of Tomorrow: Expand Your Vision for the Future of Your Practice, in Washington, DC, on March 26–29. Each therapist chooses the workshops that they will attend. Therapists have the chance to connect with old friends and meet new colleagues.
Brookhaven Retreat's therapists are enthusiastic about the featured speakers including Jon Kabat-Zinn, John and Julie Gottman, Diane Ackerman, and Daniel Siegel. They're ready to explore the latest developments in key clinical categories and master new approaches to enhance their work. And they're especially energized by the unparalleled opportunity to create a new vision for their practice.
Brookhaven Retreat's therapists will receive:

Practical insights from over 100 of the field's most acclaimed teachers
Hands-on opportunities to develop new skills in over 130 workshops
Personal renewal in a creative atmosphere of collegiality, support, and adventure
A year's worth of CE credits
About Brookhaven Retreat
Brookhaven Retreat is a women's treatment center nestled on a naturally beautiful 48-acre site secluded in the foothills of the Great Smoky Mountains. It has helped hundreds of women across the United States overcome depression, trauma, anxiety, substance use and a range of other behavioral health challenges. Brookhaven's Founder, Jacqueline Dawes, has predicated its gender-specific treatment on "healing emotional breakage" for women. In this way, she has established a sanctuary and a place where women can feel safe, secure and cared for by a staff of highly trained professionals.