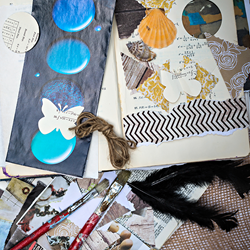 Knoxville, TN (PRWEB) January 19, 2016
Brookhaven Retreat ® LLC will celebrate International Creativity Month in art therapy sessions for clients in January.
Art therapy is an essential, experiential aspect of The Lily Program®, a 90-day voluntary residential program offered exclusively at Brookhaven Retreat. As artistic activity engages different parts of the brain, it has the ability to summon information and images from the unconscious - dreams, fears, thoughts, feelings and desires that have been hidden away from our conscious minds.
Randall Munson, motivational speaker and author of "Creativity 101" and "Creativity 102," among other books, founded International Creativity Month to serve as a reminder to make the most of our creative abilities and tendencies. The official website says, "January, the first month of the year, provides an opportunity to take a fresh approach to problem-solving and renew confidence in our creative capabilities."
The healing environment of Brookhaven Retreat offers clients the space and facilities for expressing themselves during the process of healing from difficult emotional situations like bereavement and abusive relationships, as well as mental disorders and addiction.
The American Art Therapy Association calls art therapy "an effective treatment for people experiencing developmental, medical, educational, and social or psychological impairment. Individuals who benefit from art therapy include those who have survived trauma resulting from combat, abuse, and natural and manmade disasters; persons with adverse physical health conditions such as cancer, traumatic brain injury, and other health disability; and persons with autism, dementia, depression, and other disorders. Art therapy helps people resolve conflicts, improve interpersonal skills, manage problematic behaviors, reduce negative stress, and achieve personal insight. Art therapy also provides an opportunity to enjoy the life-affirming pleasures of art making."
The act of creating art and finding creative ways to design a life worth living are similar in scope, according to Jacqueline Dawes, founder of Brookhaven Retreat.
She says, "The creative mind serves us in many ways not limited to painting or drawing or any other kind of artistic output. When we begin to exercise our ability to let go of judgment so ideas can flow more naturally, which is another way of defining creativity, that strength extends to every aspect of life, including problem-solving, interpersonal relationships and even our relationship with ourselves. Therefore creativity is a rather profound concept that exists in art therapy, but in most everything we do at Brookhaven Retreat."
About Brookhaven Retreat
Brookhaven Retreat is a women's treatment center nestled on a naturally beautiful 48-acre site secluded in the foothills of the Great Smoky Mountains. It has helped hundreds of women across the United States overcome depression, trauma, anxiety, substance use and a range of other behavioral health challenges. Brookhaven's Founder, Jacqueline Dawes, has predicated its gender-specific treatment on "healing emotional breakage" for women. In this way, she has established a sanctuary and a place where women can feel safe, secure and cared for by a staff of highly trained professionals.