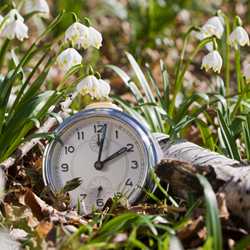 Knoxville, TN (PRWEB) March 09, 2016
For the population that suffers from Seasonal Affective Disorder (SAD) during the darker months of the year, Daylight Saving Time (DST), which begins this month, is the antidote as soaking up sunlight helps combat stress and depression.
Brookhaven Retreat ® LLC, a unique residential treatment facility exclusively for women with mental health and/or substance abuse issues, will "spring ahead" (as the expression goes) and set their clocks an hour later on Sunday, March 13 at 2 a.m. to enjoy more daylight until November when we "fall back" once again and lose an hour.
Staff and clients alike at Brookhaven Retreat enjoy the additional daylight, which means more time outside, more restful sleep and a boost in energy as the warmer weather draws closer.
According to WebMD, light therapy is one of the most effective treatments for seasonal depression. Exposure to sunlight is important for the body's absorption of vitamin D, and to avoid deficiency, which research has linked to depression, among other issues. Sun exposure helps regulate the circadian rhythm, the 24-hour cycle that shuts down melatonin production. Melatonin is the hormone that prepares your body for sleep, while serotonin regulates sleep. Research has shown that improper amounts of sleep or interrupted sleep can lower one's energy level, mood, thereby decreasing productivity and the ability to function well.
Clients of Brookhaven Retreat have the benefit of regulated sleep as part of the Lily Program ®, a 90-day program for women offered exclusively at Brookhaven Retreat. Clients wake up and go to bed at the same times each day, and schedules are adjusted according to Daylight Saving Time.
Jacqueline Dawes, founder of Brookhaven Retreat says, "When clients don't sleep well, it is difficult to expect them to function at full potential, especially if they are already suffering from mental illness, depression, anxiety, addiction, Post-Traumatic Stress Disorder, or other issues. Sleep is a basic need that can be tricky to regulate, especially in the presence of mental illness and addiction. Clients generally feel better during this time when more daylight is available. The sun's warmth is invigorating as well as relaxing, and can be quite healing for women as they retreat from whatever pain they had experienced in the past, and gain new awareness."
About Brookhaven Retreat
Brookhaven Retreat is a women's treatment center nestled on a naturally beautiful 48-acre site secluded in the foothills of the Great Smoky Mountains. It has helped hundreds of women across the United States overcome depression, trauma, anxiety, substance use and a range of other behavioral health challenges. Brookhaven's Founder, Jacqueline Dawes, has predicated its gender-specific treatment on "healing emotional breakage" for women. In this way, she has established a sanctuary and a place where women can feel safe, secure and cared for by a staff of highly trained professionals.