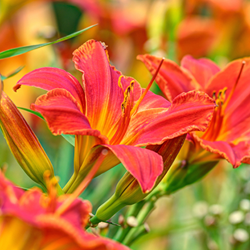 Knoxville, TN (PRWEB) June 30, 2015
Brookhaven Retreat® LLC, a unique residential treatment facility exclusively for women with emotional and mental health challenges, and/or substance abuse issues believes in providing diverse therapeutic recreational opportunities for clients of the Seymour, Tennessee facility. As part of a Lily Program® therapeutic outing, Brookhaven Retreat clients attended the Oakes Farm Daylily Bloom Festival on June 27th.
Every year, in Corryton, Tennessee, Oakes Farm hosts the Daylily Bloom Festival. This small festival brings in guests from all over the country. With more than 6 acres of daylilies in bloom, over 1500 varieties, the festival celebrates the unique, fleeting beauty of the daylily. As the name suggests, a daylily blooms for a single day before withering at sunset to be replaced the next day with a fresh bloom. It is a versatile flower with some species even being studied for anti-depressant qualities in Asia. Often viewed as a fickle flower, the daylily is a study in versatility. Its ability to thrive in neglected areas makes it a perfect specimen for gardening therapy during treatment and rehabilitation.
In addition to viewing the daylilies, visitors were treated to hay rides and local musical talents. Each Brookhaven Retreat client participating in the therapeutic outing was gifted a daylily to plant in the client garden area. After touring the grounds, Brookhaven Retreat clients were allowed the opportunity to order additional daylilies for home delivery and partake of refreshments provided on site before returning to the Brookhaven Retreat campus. The beauty of the festival had a calming influence on all participants. Lilies are a particular favorite of Jacqueline Dawes, the founder of Brookhaven Retreat. "Daylilies are among my favorite flowers with their splendid moment of beauty," she says. "A lily simply cannot be painted to be more beautiful. Very much like a strong woman, it is a stand alone prize."
Other therapeutic recreational outings for June included visits to the University of Tennessee Botanical Gardens, Knoxville's Market Square Farmer's Market, and the Tuckaleechee Caverns.
About Brookhaven Retreat
Brookhaven Retreat is a women's treatment center nestled on a naturally beautiful 48-acre site secluded in the foothills of the Great Smoky Mountains. It has helped hundreds of women across the United States overcome depression, trauma, anxiety, substance use and a range of other behavioral health challenges. Brookhaven's Founder, Jacqueline Dawes, has predicated its gender-specific treatment on "healing emotional breakage" for women. In this way, she has established a sanctuary and a place where women can feel safe, secure and cared for by a staff of highly trained professionals.