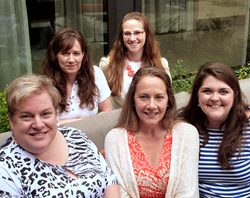 Knoxville, TN (PRWEB) April 23, 2015
Brookhaven Retreat, a unique residential treatment facility exclusively for women with emotional and mental health challenges, and/or substance abuse issues, sent several staff members to attend Real-World DBT: Adapting Dialectical Behavior Therapy to Fit Your Practice training on April 17, in Knoxville, TN
Real-World DBT: Adapting Dialectical Behavior Therapy to Fit Your Practice training was presented by Mark Carlson, Psy.D., Vice President of the DBT Certification and Accreditation Association. As an expert clinician and trainer on the adaptation of DBT for clinical settings, Dr. Carlson provided Brookhaven Retreat staff with insight on coping skills for overwhelming emotion challenges including anxiety, depression, stress, bereavement, PTSD, and other mental health issues. Strategies included implementation of DBT in real-world settings with real-world clients, application of dialectics to balance acceptance with change, and respecting weaknesses while encouraging strengths. Dr. Carlson is a professor of practice at Argosy University as well as the founder, CEO, and co-owner of Mental Health Systems, PC.
Brookhaven Retreat encourages continued learning for all staff to ensure the most successful treatment plans are in place for all guests and alumni. Brookhaven Retreat recognizes that ongoing training fosters better treatment and care for the women in its unique, woman-centered treatment facility.
Staff members attending the workshop included: Julia Wilson, Deby Torbett, Dana Hornby, Dana Sezter, and Anastasia Main.
Additional staff training will be offered at Brookhaven Retreat in Seymour, TN on May 6 and 7, 2015.
About Brookhaven Retreat
Brookhaven Retreat is a women's treatment center nestled on a naturally beautiful 48-acre site secluded in the foothills of the Great Smoky Mountains. It has helped hundreds of women across the United States overcome depression, trauma, anxiety, substance use and a range of other behavioral health challenges. Brookhaven's Founder, Jacqueline Dawes, has predicated its gender-specific treatment on "healing emotional breakage" for women. In this way, she has established a sanctuary and a place where women can feel safe, secure and cared for by a staff of highly trained professionals.