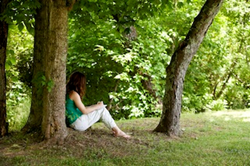 Knoxville, TN (PRWEB) May 07, 2014
According to the Anxiety and Depression Association of America, 40 million Americans suffer from anxiety disorders and nearly 15 million are diagnosed with major depressive disorder, making these two of the most common mental health concerns in the United States. This year, May 4-10 is dedicated to raising awareness for, and healing the women affected by anxiety and depression.
Anxiety and depression are normal parts of life, but for some, these feelings are disruptive and overwhelming, impacting daily life. Researchers believe that anxiety and depressive disorders are caused from a mix of environmental, psychological, genetic and developmental factors. Medication can help calm symptoms, but by focusing on a holistic approach to treating anxiety and depression women are best able to support long-term emotional, physical and mental health.
Brookhaven Retreat utilizes various therapeutic tools to treat mental health disorders. Psychotherapy has proven to be an effective treatment for depression and anxiety. Cognitive Behavioral Therapy is a form of psychotherapy that works to change negative thinking patterns and alter behaviors and reactions to stressful situations. Another effective psychotherapy, Dialectical Behavioral Therapy builds skills such as mindfulness, distress tolerance and emotional regulation that help women better manage anxiety disorders and depression.
Brookhaven Retreat incorporates eye movement and desensitization reprocessing to relieve women experiencing anxiety caused by a traumatic event. EMDR is used to quickly and effectively reduce the significance of painful memories and the resulting anxiety and stress.
During treatment, women are encouraged to adopt self-care and healthy habits that decrease symptoms and severity of these disorders, and increase quality of life. Nutrition, fitness, reflexology, and creativity are proven ways to boost happiness and reduce anxiety, and are easily transferable to life outside of inpatient treatment.
Brookhaven Retreat observes anxiety and depression awareness week by continuing to educate women on the symptoms and effects of anxiety and depression, as well as the importance of utilizing treatments that nurture not just one aspect of recovery, but benefit emotional, mental and physical health.
About Brookhaven Retreat
Brookhaven Retreat is a women's treatment center nestled on a naturally beautiful 48-acre site secluded in the foothills of the Great Smoky Mountains. It has helped hundreds of women across the United States overcome depression, trauma, anxiety, substance use and a range of other behavioral health challenges. Brookhaven's Founder, Jacqueline Dawes, has predicated its gender-specific treatment on "healing emotional breakage" for women. In this way, she has established a sanctuary and a place where women can feel safe, secure and cared for by a staff of highly trained professionals.