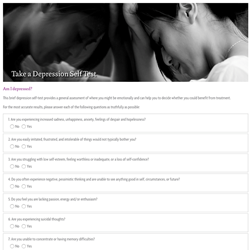 Knoxville, TN (PRWEB) October 22, 2015
Brookhaven Retreat ® LLC observes Depression and Mental Health Screening Month in October by pointing to their newly launched website, which has always included the component of self-evaluation to help potential clients identify how Brookhaven Retreat can make a difference in their lives and put them on a path for creating a life worth living.
The signs of depression in women are not always visible.
At some point in life, many people suffer from some level of depression. Many women push through their depression for a long time, presenting as having everything together on the outside while falling apart on the inside.
There are still stigmas attached to depression that motivate women to hide their suffering because they fear others believe they're just not trying hard enough.
"It creates a dangerous situation," says Jacqueline Dawes, founder of Brookhaven Retreat. "Feelings of deep depression can lead to suicide if not addressed in treatment. Awareness is crucial."
Brookhaven Retreat offers a self-test for depression, including 15 questions that cover aspects of behavior and emotions that may indicate a need for treatment. For instance, relationship difficulties, insomnia, feelings of overwhelm and the inability to make decisions, hallucinations, paranoia and a lack of interest or enthusiasm for life in general. Suicidal thoughts are also an indicator of a strong need for help.
The test scores the answers and provides a general assessment of one's status relative to the selected condition. From that point, recommendations can be made about the options.
Whatever the assessments may indicate, the site invites anyone to call a member of the Brookhaven Retreat staff toll-free at 1.877.817.3422 to confidentially discuss concerns or issues.
"We speak with you without judgment or criticism and will take the time to understand your situation and answer any questions you may have about our programs and facilities," adds Dawes. "We want to know your story and teach you how to become well. Only you can take that step to leave the land of the 'walking dead' and find your way to the land of emotional wholeness. We have the tools. You simply have to be willing to take them and learn to use them."
About Brookhaven Retreat
Brookhaven Retreat is a women's treatment center nestled on a naturally beautiful 48-acre site secluded in the foothills of the Great Smoky Mountains. It has helped hundreds of women across the United States overcome depression, trauma, anxiety, substance use and a range of other behavioral health challenges. Brookhaven's Founder, Jacqueline Dawes, has predicated its gender-specific treatment on "healing emotional breakage" for women. In this way, she has established a sanctuary and a place where women can feel safe, secure and cared for by a staff of highly trained professionals.