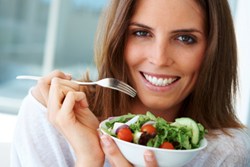 It's important to take small steps to positive change. - Charity Bialik
Knoxville, TN (PRWEB) August 08, 2013
A registered dietitian is an integral part of Brookhaven Retreat's residential recovery program for women with substance abuse or mental health issues. Brookhaven Retreat is thrilled to welcome registered dietitian Charity Bialik to its team. By incorporating therapy skills into weekly individual and group classes, she has refined the role of dietitian at Brookhaven Retreat.
The National Association of Mental Health reports that poor nutrition can not only aggravate mental illness but also change brain function. Proper nutrition is critical to a woman's recovery from mental health issues. Brookhaven Retreat believes that women seeking mental health or substance abuse treatment should meet with a registered dietitian as part of comprehensive treatment that focuses on the many factors that influence a woman's mental health.
Charity meets with clients soon after admission to create an initial assessment. This assessment examines a woman's exercise plan, food habits, eating history and sets up personal goals for her stay. It also allows the dietitian to communicate a woman's needs to dining staff. Weekly individual meetings follow this assessment and track a woman's progress while offering recommended reading and assignments.
In addition to individual work with clients, Charity leads two group classes each week. Positive Body Image explores the deeply rooted emotions and feelings relating to a woman's body image, and Healthy Habits looks at manageable lifestyle changes that can significantly impact mental health.
Many women who come to Brookhaven Retreat with depression, anxiety or mood disorders show signs of emotional eating, disordered eating and poor body image. Charity says she tries to "meet each client where they are." "It's important to take small steps to positive change," Charity says, because "some women may be more motivated than others and what constitutes manageable change may be different for each."
Charity incorporates Brookhaven Retreat's 12-week dialectical behavior therapy cycle into her weekly classes. These topics may vary from food's effect on the body's ability to synthesize neurotransmitters to mindful eating.
By incorporating therapy skills in women's nutrition plans, and nutrition in a woman's individual treatment program, Brookhaven Retreat expands women's awareness of the relationship between physical and emotional health. A proper nutrition plan enables women to return home and make informed dietary choices that will support continued wellness.
About Brookhaven Retreat
Brookhaven Retreat is a women's treatment center nestled on a naturally beautiful 48-acre site secluded in the foothills of the Great Smoky Mountains. It has helped hundreds of women across the United States overcome depression, trauma, anxiety, substance use and a range of other behavioral health challenges. Brookhaven's Founder, Jacqueline Dawes, has predicated its gender-specific treatment on "healing emotional breakage" for women. In this way, she has established a sanctuary and a place where women can feel safe, secure and cared for by a staff of highly trained professionals.