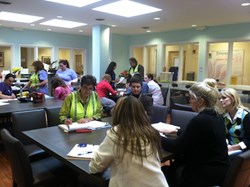 Knoxville, TN (PRWEB) October 31, 2013
Brookhaven Retreat successfully completed an emergency incident command system drill on October 28. The drill ensured the facility is prepared to keep women in mental health treatment safe in the event of a disaster.
The Life Safety Committee is in charge of procedures that maintain client safety in both daily and emergency situations at Brookhaven Retreat. The committee oversees all safety drills. An emergency incident command system drill is a disaster drill that tests the effectiveness of the command system put in place by the committee.
October's scenario involved a false tornado strike. The situation described to staff included a tipped transport van, damaged stairs, debris, flooding, destroyed client rooms, a gas leak and a 48 hour power shortage.
Each employee was given a role in order to practice the various responsibilities they might be assigned in the event of an emergency. During the drill, consultant Dr. Swisher monitored employee roles and responses to the mock emergency.
Staff faced issues including how to continue treatment, calm anxious clients, communicate client safety to family members, provide meals through the power shortage, make sleeping arrangements, provide supplies for groups and support clients throughout the disaster period.
Such drills are frequently practiced at Brookhaven Retreat to ensure employee effectiveness in case of a disaster. They are part of the residential facility's continual efforts to provide the very safety environment for women to recover from substance abuse, bipolar disorder, anxiety and other mental health issues. When a woman trusts she is safe, she is best able to focus on her recovery.
About Brookhaven Retreat
Brookhaven Retreat is a women's treatment center nestled on a naturally beautiful 48-acre site secluded in the foothills of the Great Smoky Mountains. It has helped hundreds of women across the United States overcome depression, trauma, anxiety, substance use and a range of other behavioral health challenges. Brookhaven's Founder, Jacqueline Dawes, has predicated its gender-specific treatment on "healing emotional breakage" for women. In this way, she has established a sanctuary and a place where women can feel safe, secure and cared for by a staff of highly trained professionals.