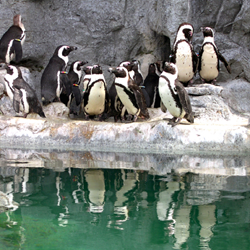 Knoxville, TN (PRWEB) February 10, 2016
Brookhaven Retreat® LLC, a unique residential treatment facility exclusively for women with emotional and mental health challenges, and/or substance abuse issues recently treated clients to a therapeutic outing to the Rainforest Adventures Discovery Zoo in Sevierville, TN followed by Hobby Lobby on February 6, 2016.
Themed by one of the nation's finest zoological contractors, The Rainforest Zoo, whose work includes Animal Kingdom at Disney World, features more than 600 live animals representing more than 130 species.
Studies have shown that animal therapy reduces tension and acts as a mood enhancer, which can help clients avoid stress and depression. Other benefits include lowered blood pressure and heart rate, and a reduction in the severity of pain from physical illness.
As part of The Lily Program®, a 90-day program for women offered exclusively at Brookhaven Retreat, equine assisted psychotherapy (EAP) is part of the addiction and emotional wellness treatment program. EAP has proven successful in treating those with mental health issues by providing a powerful therapy for trauma and conflict resolution that incorporates teaching and practicing essential life skills.
Typically conducted in groups, a highly trained equine therapist and psychotherapist are responsible for facilitating the development of a relationship between a client and the horses.
The Lily Program also offers clients opportunities for experiences outside the Seymour Tennessee-based facility. Weekly outings are an inherent aspect of therapy. Clients embark on diverse therapeutic trips as an opportunity for education, recreation and intellectual stimulation.
Brookhaven Retreat's founder Jacqueline Dawes, says, "Every day experiences are important for both perspective and opportunity to use the skills taught within the program. The outings we go on are a taste of what life will be like for clients after they complete the program. With new skills and a more keen awareness of their issues and how to address them, they experience life in a heightened state, yet with supervision. There are opportunities to discuss the outings afterwards and delve deeper into the experiences and both the positive and negative aspects. It's a learning experience and more often than not, rather enjoyable."
About Brookhaven Retreat
Brookhaven Retreat is a women's treatment center nestled on a naturally beautiful 48-acre site secluded in the foothills of the Great Smoky Mountains. It has helped hundreds of women across the United States overcome depression, trauma, anxiety, substance use and a range of other behavioral health challenges. Brookhaven's Founder, Jacqueline Dawes, has predicated its gender-specific treatment on "healing emotional breakage" for women. In this way, she has established a sanctuary and a place where women can feel safe, secure and cared for by a staff of highly trained professionals.