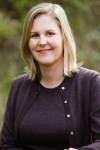 Knoxville, TN (PRWEB) August 06, 2013
Brookhaven Retreat's medical director Dr. Julia Wood gave birth to her new daughter, Hannah Freedman James, on May 12. On August 5, Brookhaven Retreat is delighted to welcome Dr. Wood back to work from maternity leave.
Dr. Wood's knowledge of women's mental health disorders, unique hormonal influencers and medication management has greatly added to the role of medical director at Brookhaven Retreat. Her experience dealing specifically with women's issues has helped the women in its residential program overcome prescription addiction, substance abuse, depression, trauma, anxiety, borderline personality disorder and many other mental health issues.
Brookhaven Retreat was created with women's unique mental health issues, emotional needs and life experiences in mind. Because women have such different social expectations, potential traumas and emotional needs, it is important for treatment to address these unique differences. Additionally, an all-women's facility allows women to share with each other and overcome their mental health issues in a safe and comforting environment.
Because Brookhaven Retreat's residential treatment program was specifically designed to bring women's lives back to a place of balance and wellness, Dr. Wood's expertise is a perfect fit for its mission. Her success at Brookhaven Retreat is seen in the success of each woman who completes the program and returns home happy, healthy and ready to create a life worth living.
Brookhaven Retreat congratulates Dr. Wood on her latest addition, and is delighted to have her back. Both clients and staff are thrilled to see her back at work on August 5.
About Brookhaven Retreat
Brookhaven Retreat is a women's treatment center nestled on a naturally beautiful 48-acre site secluded in the foothills of the Great Smoky Mountains. It has helped hundreds of women across the United States overcome depression, trauma, anxiety, substance use and a range of other behavioral health challenges. Brookhaven's Founder, Jacqueline Dawes, has predicated its gender-specific treatment on "healing emotional breakage" for women. In this way, she has established a sanctuary and a place where women can feel safe, secure and cared for by a staff of highly trained professionals.