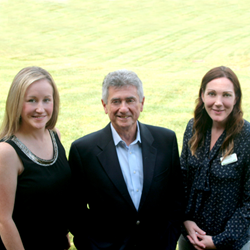 Knoxville, TN (PRWEB) September 16, 2015
Brookhaven Retreat® LLC, a unique residential treatment facility exclusively for women with emotional and mental health challenges, and/or substance abuse issues, welcomed Dr. Peter Martin, Professor of Psychiatry and Pharmacology at the Vanderbilt University School of Medicine, and Director of the Vanderbilt Addiction Center, on Sept. 11, 2015.
Dr. Martin has enjoyed several visits to Brookhaven Retreat in the past and continues to provide useful information for clinical and medical staff. He has been a member of the faculty at Vanderbilt University in Nashville, TN, since 1986, when he established the Division of Addiction Psychiatry. As Director of the Vanderbilt Addiction Center, his research and scholarly interests have included the molecular basis, diagnosis, and treatment of drug use disorders with an emphasis on substance-induced mental disorders.
Brookhaven Retreat is dedicated to providing the highest quality of care to women suffering from substance abuse and mental health issues. In order to offer the safest environment for their recovery, Brookhaven Retreat provides the staff with lectures such as this, to exceed every standard of care and remain on top of the most current information regarding specialized treatment, such as in the case of pregnancy.
Dr. Martin's lecture provided an overview of treatment principles for managing opioid dependence in pregnancy, which requires holistic and comprehensive assessment, as well as current treatment guidelines for use of opioid-substitution therapy. Specific issues that may need to be addressed include decision-making regarding the choice of opioid-substitution therapy and the potential for neonatal abstinence syndrome in the newborn.
Brookhaven Retreat's founder, Jacqueline Dawes, relies on the expertise of lecturers like Dr. Martin to provide guidance for staff members. "We are quite pleased to have the benefit of Dr. Martin's experience and knowledge, especially for our clients with addiction issues and pregnancy occurring simultaneously. Dealing with either one separately presents an array of challenges. However, together they create a much more delicate combination of circumstances, both physically and emotionally. We are grateful for the light Dr. Martin has shed on the subject, and we look forward to having him return in the future."
About Brookhaven Retreat
Brookhaven Retreat is a women's treatment center nestled on a naturally beautiful 48-acre site secluded in the foothills of the Great Smoky Mountains. It has helped hundreds of women across the United States overcome depression, trauma, anxiety, substance use and a range of other behavioral health challenges. Brookhaven's Founder, Jacqueline Dawes, has predicated its gender-specific treatment on "healing emotional breakage" for women. In this way, she has established a sanctuary and a place where women can feel safe, secure and cared for by a staff of highly trained professionals.