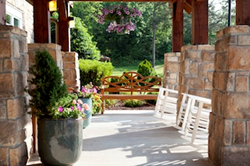 Knoxville, TN (PRWEB) August 12, 2014
Brookhaven Retreat welcomed consultant Dr. Lynn Swisher August 5-6. Dr. Swisher is board certified by the American Board of Quality Assurance and Utilization Review Physicians, and is an integral part of Brookhaven Retreat's commitment to providing complete comprehensive care to women with mental health and substance abuse issues.
Following up from her visit in July, Dr. Swisher met with various internal departments to ensure Brookhaven Retreat continues to meet the expectations and standards set by the 2015 Joint Commission Standards.
Dr. Swisher spent her time meeting with Brookhaven Retreat's nursing team and the onsite psychiatrist, and attended each performance committee meeting including: Pharmacy Committee; Education Committee; Information Management Committee; and Life Safety Committee. These in-house committees meet monthly to review, revise and monitor system performance.
For more than eight years, Brookhaven Retreat has continued to consistently provide the best in residential care for women recovering from mental health disorders and substance abuse, and Dr. Swisher's monthly evaluations are a critical element in this process. Brookhaven Retreat is thankful for Dr. Swisher's dedication to helping it maintain the highest standards of care as it continues to grow and evolve.
About Brookhaven Retreat
Brookhaven Retreat is a women's treatment center nestled on a naturally beautiful 48-acre site secluded in the foothills of the Great Smoky Mountains. It has helped hundreds of women across the United States overcome depression, trauma, anxiety, substance use and a range of other behavioral health challenges. Brookhaven's Founder, Jacqueline Dawes, has predicated its gender-specific treatment on "healing emotional breakage" for women. In this way, she has established a sanctuary and a place where women can feel safe, secure and cared for by a staff of highly trained professionals.