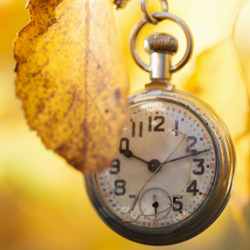 Knoxville, TN (PRWEB) October 29, 2015
This is the time of year when an estimated one in four of us experience winter depression better known as Seasonal Affective Disorder, or SAD, beginning in October and ending in April with the earliest evidence of spring. The end of Daylight Saving Time (DST) is marked by setting our clocks back an hour on Sunday, November 1 at 2 a.m.
While the extra hour of sleep may be welcomed, about 11 million Americans suffer from SAD, which manifests with sluggishness, weight gain, food cravings, fatigue, and other signs of depression from the lack of sun exposure that disrupts our otherwise sense of balance and internal body clock (circadian rhythm).
How much of a toll it takes on an individual depends mostly on one's geographical location, DNA and brain chemistry.
The shorter days and unfortunate lack of sunlight and vitamin D makes the brain work harder to produce melatonin, the hormone responsible for regulating sleep patterns and producing melatonin, which has been linked to depression.
Brookhaven Retreat clients will be given the following tips on how to manage SAD this winter.
1. Get outside during the brightest hours of the morning. It may be colder and not as pleasant to be outside in the month's to come, but with the appropriate gear, being outdoors doesn't have to be uncomfortable. It's worth it for the improvement in physical energy during the day, mental outlook and the ability to get a good night's rest while you sleep.
2. Go to sleep at a reasonable hour. Good sleep is essential all year long, of course. But when your system is stressed, more anxious and depressed as a reaction to the change of season, it makes an even bigger difference in energy levels as well as the ability to function, be productive, communicate and concentrate.
3. Exercise every day. Adrenalin and endorphins can help lift you out of SAD both temporarily and longer-term. While walking outside is ideal, since you simultaneously gain sun exposure, which is the core of the problem, taking an exercise class or working out in the gym, and indoor swimming can also keep spirits up and offset any additional calories you may be taking in during emotional eating.
4. Employ your sense of smell. Aromatherapy oils may help combat the imbalance of melatonin, specifically Frankincense, Marjoram, Geranium, Bergamot, Lavender, Chamomile and the citrus-derived oils.
According to PositiveHealthOnline, scientific studies have demonstrated the beneficial effects of aromatherapy on mood and depression. "Natural plant oils may stimulate regions in the brain, including those controlling endocrine, immune, and limbic (emotional center) functions," says the site.
Women in mental health treatment at Brookhaven Retreat have the benefit of therapy and regulated sleep cycles, meaning going to bed and waking up at the same times each day. With the end of DST, these schedules are adjusted accordingly.
Brookhaven Retreat's founder, Jacqueline Dawes says, "We are very conscious of the role SAD plays this time of year because it makes our job a bit more challenging. However, clients who happen to be here during this trying time of year have the advantage of the experience of learning how to deal with it SAD, and can take it with them when they leave."
About Brookhaven Retreat
Brookhaven Retreat is a women's treatment center nestled on a naturally beautiful 48-acre site secluded in the foothills of the Great Smoky Mountains. It has helped hundreds of women across the United States overcome depression, trauma, anxiety, substance use and a range of other behavioral health challenges. Brookhaven's Founder, Jacqueline Dawes, has predicated its gender-specific treatment on "healing emotional breakage" for women. In this way, she has established a sanctuary and a place where women can feel safe, secure and cared for by a staff of highly trained professionals.