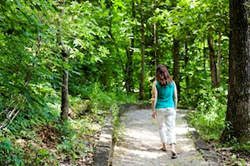 Knoxville, TN (PRWEB) April 22, 2014
April 22 marks the 44th Anniversary of Earth Day. Since 1970, the Earth Day Network has celebrated worldwide the importance of maintaining the Earth's resources and species for future generations. This commemoration is now the largest civic observance in the world with up to 1 billion people in 192 different countries participating each year.
Brookhaven Retreat celebrates the positive impact that nature has on mental health. Nature has a significant impact on preventing and treating mental health disorders. Connecting with the outdoors significantly improves symptoms of major depressive disorder and boosts energy levels. Research done by the University of Essex found that 71 percent of people reported a reduction in depression after taking a walk in nature and nearly all participants reported increased self-esteem.
Brookhaven Retreat's residential treatment facility offers relief from anxiety and depression through outdoor activities. Mindful walking on the nature trail alters worrisome thoughts; by engaging all five senses, walking adjusts the mind to the present moment and allows it on the true experience of the moment.
According to research, gardening offers substantial benefits for women suffering from depression. Fresh air and sunshine get the blood circulating, and gardening is also an excellent source of low impact exercise.
To better understand individual leadership skills, trust and self-esteem, women are given the chance to participate in outdoor experiential therapies, such as the ropes course. Women also explore their emotional breakage by utilizing researched-based equine therapy. Particularly beneficial to women not responding to traditional psychotherapy, equine therapy uses body language and mood to interpret feelings. Horses have the ability to tap into suppressed fears and emotions.
Surrounded by 48 acres of greenery in the foothills of the Smoky Mountains, Brookhaven Retreat strongly believes that connecting with nature plays an important role in recovery from mental health and substance abuse issues.
This Earth Day, Brookhaven Retreat will continue to encourage a holistic approach to recovering from mental health issues by utilizing outdoor therapies that stimulate mental, emotional and physical health.
About Brookhaven Retreat
Brookhaven Retreat is a women's treatment center nestled on a naturally beautiful 48-acre site secluded in the foothills of the Great Smoky Mountains. It has helped hundreds of women across the United States overcome depression, trauma, anxiety, substance use and a range of other behavioral health challenges. Brookhaven's Founder, Jacqueline Dawes, has predicated its gender-specific treatment on "healing emotional breakage" for women. In this way, she has established a sanctuary and a place where women can feel safe, secure and cared for by a staff of highly trained professionals.